---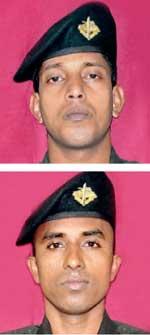 By Romesh Madushanka
Army officers of Kilinochchi yesterday (07) rescued two children and their parents from drowning in a muddy depth of Arasapurakulam Tank in Pooneryn, Kilinochchi.
The family of four is now under treatment at the Jaffna Teaching Hospital.

The Army Officers had rushed to the spot following screams of the downing of parents and their children.

Those rescued are D. Thirunal, Allosiyus Jayanthimala (44) mother, Anbarason (14) and younger son Anusthan (12).

Thirunal got into the trouble with his wife and two children while bathing in the tank. The father and other members of the family had struggled to rescue one of the children when they saw he was drowning. But they had failed in their effort and had begun to sink in the water themselves.

However, hearing screams Army officers had rushed to the tank and rescued them.

"They were unconscious when taken to the bank of the tank but after providing first aid they regained consciousness and were admitted to the Pooneryn Hospital," an officer said.