---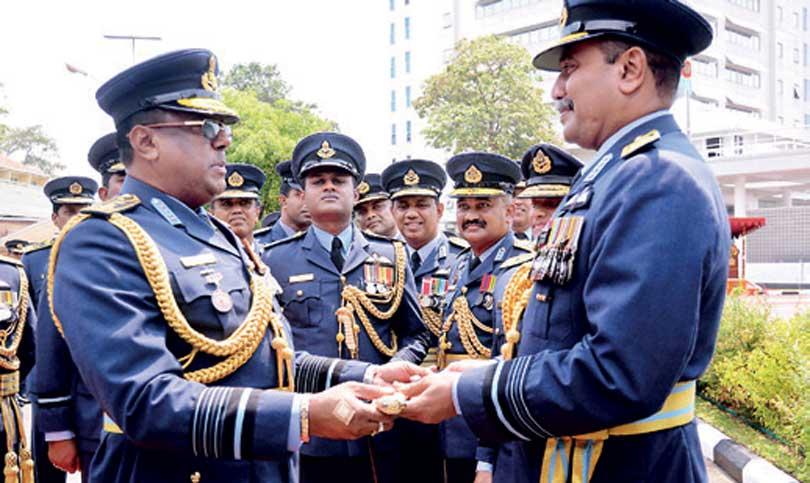 Air Chief Marshal Kapila Jayampathy retired from the Air Force today. He was given a guard of honour at the Air Force Headquarters. Seen in the picture is the outgoing Air Chief handing over the Command baton to the newly-appointed Commander of the Air Force Air Marshal D.L.Sumangala Dias.
Pix by Pradeep Pathirana
By Darshana Sanjeewa Balasuriya
Chief of Staff of the Sri Lanka Air Force (SLAF), Air Marshal D.L.Sumangala Dias was appointed as the 17th Commander of the SLAF yesterday by President
Maithripala Sirisena.
He was promoted to the rank of Air Marshal.

Air Marshal Dias joined the SLAF on December 13, 1984 as an Officer Cadet in the General Duties Pilot Branch in the 13th Officer Cadet intake. On completion of the Basic and Advanced phases of flying training, he was commissioned as a Pilot Officer in the GDP branch on August 15, 1986.

On June 1, 2005 he was appointed as the Base Commander at the Air Force Base in Hingurakgoda which consists of three lodger formations including two helicopter squadrons. He was appointed as the Senior Air Coordinator for the Humanitarian Operations and actively performed duties with the ground commanders located in North and East theaters until the completion of the Humanitarian Operations in year 2009. Air Marshal Dias was awarded the Desha Puthra award as a result of injuries he sustained by enemy fire over Silawaththurai during offensive combat air operations during the war.

Meanwhile, the President has promoted outgoing Air Force Commander, Air Marshal Kapila Jayampathy, who retired from his post yesterday to four-star rank of Air Chief Marshal. Air Chief Marshal Jayampathy took over as the 16th Commander of the Sri Lanka Air Force on September 12, 2016.

Air Chief Marshal Jayampathy ceremonially handed over command of the Sri Lanka Air Force to Air Marshal Sumangala Dias yesterday.
Air Marshal Dias joined the SLAF on December 13, 1984 as an Officer Cadet in the General Duties Pilot Branch in the 13th Officer Cadet intake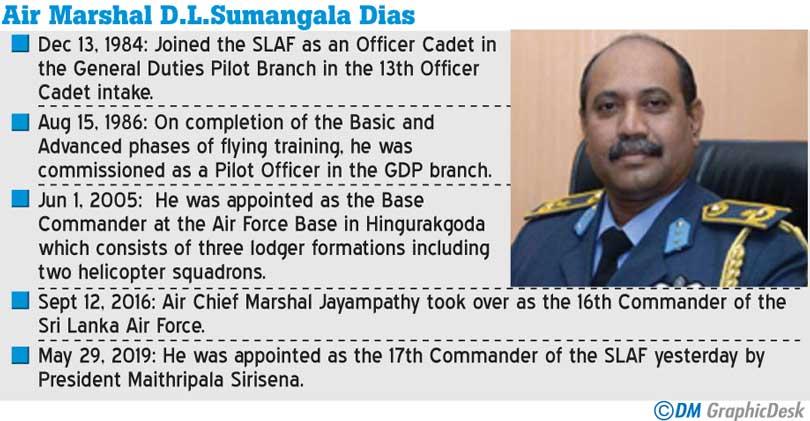 Outgoing Commander Kapila Jayampathy promoted to four-star rank of Air Chief Marshal