---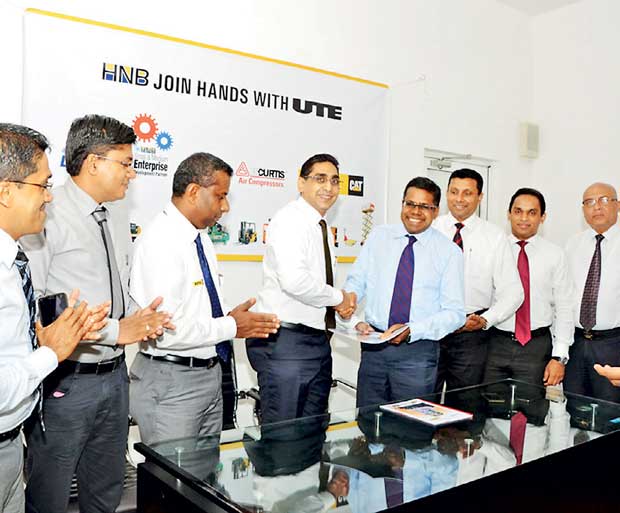 Exchange of MoU between UTE CEO Riyad Ismail and HNB COO Dilshan Rodrigo in the presence of UTE and HNB team (from left) UTE Marketing Consultant Michael Ranasinghe, Manager Industrial Solutions Sampath Sudarshana, General Manager Power Systems/Material Handling Solutions/Industrial Solutions/Energy Solutions Manjula Vithanage, CEO Riyad Ismail, HNB COO Dilshan Rodrigo, Senior Manager Personal Financial Services Kanchana Karunagama, Senior Manager SME Business Division Niluka Amarasinghe and Senior Manager Leasing Jeewantha Perera
The country's youth, especially the small and medium entrepreneurs, need reliable and efficient tools together with financial support to boost their businesses. In an initiative to help small and medium enterprises (SMEs) remain competitive and meet an increased demand for energy-efficient machinery, United Tractor & Equipment (Pvt.) Limited (UTE) and Hatton National Bank (HNB) signed a memorandum of understanding (MoU) recently to provide the SME entrepreneurs an easy payment scheme to finance the FS Curtis air compressor range.
"Our decision to support the SME sector with UTE's range of products is due to their reputation for reliability in providing efficient products coupled with their legendary after-sales services, which will enable our clients to be more productive and profitable. It's a win-win solution all round," said HNB COO Dilshan Rodrigo.
Under the terms of the MoU, HNB will provide an attractive financial solution for SMEs when purchasing FS Curtis air compressors. The terms include a five-year repayment scheme at a competitive fixed interest rate throughout the term of the period or a floating rate to suit the customer income pattern. For greater customer convenience, HNB has offered to process the lease facilities to customers with minimum documentation.
The FS Curtis range is renowned globally for having set the gold standard for superior engineering design for compressors. Its equipment remains unmatched in terms of durability and performance. Through the MoU, the local SMEs will have access to the FS Curtis products such as the air dryer, air filter, air receiver, piston air compressor, and rotary screw compressor via low monthly payments.
"It is a privilege for UTE to partner HNB and continue to support the youth and contribute towards SME development in the country. This MoU will help SMEs overcome business challenges through comprehensive finance solutions and in the use of pneumatic technology for their day-to-day activities," said UTE CEO Riyad Ismail.
To promote the benefits of the FS Curtis range, UTE is conducting a roadshow visiting SMEs countrywide, with special emphasis on garages, tyre shops, service stations and small factories that extensively use air compressors. Under the MoU, HNB will also provide customized financial solutions for entrepreneurs who wish to purchase other UTE equipment through a special leasing scheme.