---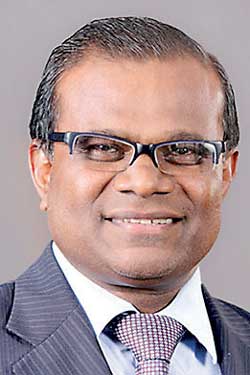 Sarvodaya Development Finance Ltd (SDF), a brainchild of the globally renowned Sarvodaya Movement, is a financial firm specialised in empowering the grassroot communities with financial solutions. Staying abreast of modern technology and innovation, SDF has created new avenues and continuously supported the growth of aspiring micro, small and medium entrepreneurs throughout the island. In retrospect of its significant milestones and achievements, Chief Executive Officer of Sarvodaya Development Finance Dharmasiri Wickramatilaka elaborated on the journey of a pioneer in micro finance industry.
Can you share some of the turning points and milestones of SDF?

SDF is the brainchild of Sarvodaya Movement, a globally recognised non-governmental organisation engaged in social work and economic development at grassroot level. Since its inception in 1958 from Kanatholuwa village in Kurunegala, Sarvodaya Movement has been serving the communities to uplift their living standards. By the 70s and 80s, the services further expanded with the establishment of Sarvodaya Shramadhana Societies, entities that functioned as back-banks, supporting the community by lending money, and facilitating deposits. With the 2010 law imposed by the Central Bank, it was compulsory for all organisations accepting deposits to register as a financial institute. This was a major turning point which saw to the birth of Sarvodaya Development Finance.

What are your thoughts on the evolution of SDF?

SDF's predecessor SEEDS (Sarvodaya Economic Empowerment Development Service), was a firm specialised in lending money to develop the grassroots. SEEDS later evolved into Deshodaya Development Finance Company Limited (DDFC), which implemented capacity building leadership development and entrepreneurship development. DDFC also undertook discussions of community issues and submission of proposals to relevant authorities. Following a momentous growth attained over a period of three years, DDFC was later re-branded as Sarvodaya Development Finance, with a renewed mission to empower the grassroots on a broader scale.

How do you differentiate SDF from other leading financial institutions?

Unlike many financial institutes, SDF is not solely profit driven. 80 percent of SDF's ownership goes to Sarvodaya Movement while another 20 percent is backed by philanthropic investors from Japan. Inspired by the magnanimous objectives of Sarvodaya Movement, SDF returns its profits back to the society to uplift the living standards of rural communities. Sarvodaya maintains nine Children's Homes including the Masevana Home for Teenage Mothers, five centres for differently-abled persons, and three Elders' Homes through its government approved charity arm - Suwasetha Sewa Society. The society also manages a Kidney Patients' Home in Anuradhapura, which provides free accommodation and care for patients receiving dialysis.

How do you best describe your company's expertise in Microfinance?

SDF is strongly backed by Sarvodaya Movement's cumulative expertise spanning over half a century. Sarvodaya has proactively supported the growth of numerous enterprises and trained hundreds of individuals in microfinance sector. We are truly happy to observe the career progress of those trained by us, where some of them have already reached the pinnacle of their careers in the financial industry.

How do you view SDF expanding its services to the MSME sector?

Many Sri Lankans belong to the financially exclusive society, and are not eligible to receive financial support from mainstream banks and financial firms. SDF has played a major role to uplift their lives, by offering proper guidance and financial support. We offer Micro enterprise loans, enabling microfinance firms to gradually grow into medium size industries. Therefore, to stay ahead of the competition while driving our customers towards a niche market, SDF expanded its services from micro finance to MSME sector.

As a financial institution proactively engaged in grassroots development, what are the

special products and services offered by SDF?

Our products are categorised mainly by consumption and enterprise requirement. SDF has introduced a gamut of products including micro loans, SME loans, leasing, personal loans, pawning, saving accounts and fixed deposits in addition to Lanka Money Transfer and Western Union. 'Apu Gaman Cash' is a special leasing scheme for three wheel owners to streamline their transactions. We also offer a host of saving options including fixed deposits and the most popular fixed saver accounts, which facilitates monthly saving for a period of time and eventually converts into a fixed deposit.

Can you elaborate on the achievements of SDF?

At SDF, we strongly believe in good governance, transparency and integrity. We are 100 percent compliant with the Central Bank regulations and this is reflected in all our financial reports. We have won the Compliance Award for three consecutive years at the annual award ceremony organised by the Institute of Chartered Accountants of Sri Lanka. SDF won the Compliance Merit Award in 2015-2016, and Silver Award in 2016-2017 (for companies with assets less than Rs.20 billion). As a relatively small finance company in the industry, this is indeed a significant recognition and achievement for SDF.

How does SDF cope with the technological advancement in the financial sector?

Inevitably we are all moving towards a digital era. SDF too has embraced modern technology to bring greater convenience to our customers. We have introduced mCash platform, in partnership with Mobitel, to streamline our existing collection process and provide a fully secure environment to perform transactions round the clock. mCash also helps boosting overall checks and balance in the company, and we plan to expand this service for deposits as well. We have also facilitated our customers with the convenience of performing withdrawals from any ATM across the island.

What are the future plans of SDF?

In order to bridge the growing skill gap among employees, we have planned special internal training programmes for our staff to cope with the modern day technological challenges. We are also developing a virtual bank system, to accept customer enquiries and provide prompt feedback via online.

With its aim to become a truly development bank in due course, we at SDF continue to uplift the MSME sector while going the extra mile to support the growth and development of the financially inclusive communities.