---
In a world governed by uncertainties such as economic upheavals and unpredicted downturns, building customer confidence and meeting customer expectations remain key to success in financial markets.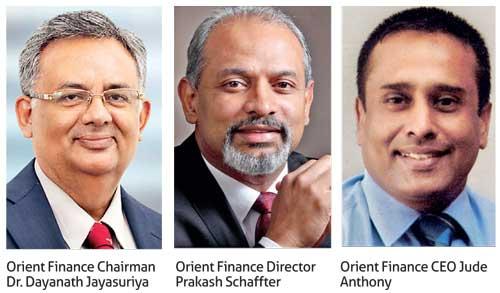 Stability and growth have been two key factors that have been the hallmark of Orient Finance. As an ICRA-rated reputed Sri Lankan finance company, Orient Finance has consistently been buoyed by the trust and confidence placed in the company by its depositors and customers, says Orient Finance Director Prakash Schaffter.
With a branch network of 31 branches and convenience centres that cover all major cities, Orient Finance possesses an asset base over Rs.17.5 billion. The company pioneered the trade-in facility, which has become a widely accepted industry benchmark of importance today. It has in fact proved to be tremendously popular with customers as well.
Customised lending schemes that are flexible and attractive trade in facilities have been pillars of growth for Orient Finance.
"The company will complete 38 years in operations this year. Having undertaken a journey of customer-focused service that combine well with our portfolio of investments and loans, Orient Finance believes in spearheading a level of expansion that will empower us to deliver exceptional returns to our customers," says Orient Finance CEO Jude Anthony.
Orient Finance has succeeded in building a robust portfolio of providing leasing facilities for SUVs, cars and three-wheelers. The company also facilitates gold loans with which jewellery can be instantly turned into cash to fulfil a sudden need. Over the years, Orient Finance has been able to reaffirm the trust placed in its stability, enabling the company to provide fixed deposit interest rates that are attractive and competitive and assure long-term deposits and short-term deposits great incentives.
"In today's vulnerable markets and challenging economic times, focusing on customer needs and understanding their needs is everything. Orient Finance has been able to do that, which has become the cornerstone of success for us," says Orient Finance Chairman Dr. Dayanath Jayasuriya.
"In tough economic times, we are constantly guided by our reputation for reliability and consistency. Every customer wants to be confident of the return on investment and the safety of the investment. At Orient Finance, trust and confidence are assured to the customer at all levels," he says in conclusion.
Orient Finance is listed in the Colombo Stock Exchange. The board consists of Chairman Dr. Dayanath C. Jayasuriya PC, Non-Executive Director Prakash A. Schaffter, Non-Executive Director Ramesh Schaffter, Non-Executive Independent Director K.M. Anil T.B. Tittawella PC, Non-Executive Independent Director Minette D.A. Perera, Non-Executive Independent Director Indrani Goonesekera and Non-Executive Independent Director N. Sriyan S. Cooray.
Under the guidance of its eminent board of directors, the Orient Finance team has developed a strong customer focus that enables them to understand and emphasise on changing customer requirements. Robust customer insights drive their product portfolio and services constantly.