---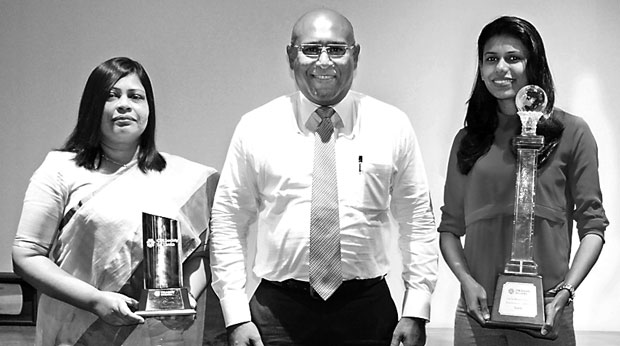 From left: NDB Assistant Vice President Finance and Planning Suvendrini Muthikumarana, NDB Director/CEO Dimantha Seneviratne and Deputy Manager Finance and Planning Kumudari Peiris
National Development Bank PLC (NDB) was crowned with the Gold award for best investor relations at CFA Sri Lanka Capital Market Awards 2017, which was held recently at The Hilton Colombo.
This is the second consecutive year that the bank was recognized with the Gold award, having won the Silver and Bronze in the years 2015 and 2014, respectively and the bank is humbly proud of this achievement and believes that it stands as a strong testament of the bank's continued efforts to bring in value to the financial industry.

Commenting on this feat, NDB Director and CEO Dimantha Seneviratne stated, "Investor relations are of utmost importance for the bank and this award reaffirms NDB's efforts over the years to become the best in the Sri Lankan capital market in investor relations."

The award for investor relations is given for an entity that demonstrates accessibility of management, quality, transparency and fairness in disclosures, consistency in the investor relations function in all conditions among other criteria.

Sixteen companies were shortlisted for the award, which were subject to a rigorous selection process by a panel comprising of analysts from stockbroking firms, fund managers and institutional investors.
The globally recognized Chartered Financial Analysts (CFA) is an organisation established to promote the development and dissemination of relevant research for investment practitioners worldwide. The objectives of the investor relations award of the Capital Market Awards by the CFA Society Sri Lanka were to recognize and acknowledge companies that undertake investor relations function to communicate interactively with the investor community, to increase awareness of the importance of investor relations for markets to function efficiently and to encourage best practices in investor relations.

The CFA capital market awards is broadly hailed by capital markets, aimed at identifying firms and practitioners that have added value towards the accomplishment of specialized standards of practice in capital markets.

takas.lk Co-Founder and CEO Lahiru Pathmalal, John Keells Holdings Executive Director Gihan Cooray, Guardian Fund Management Ltd CEO Ruvini Fernando, Nielson Sri Lanka Managing Director Sharang Pant and CFA President Rachini Rajapaksa were among the officials present at the event.