---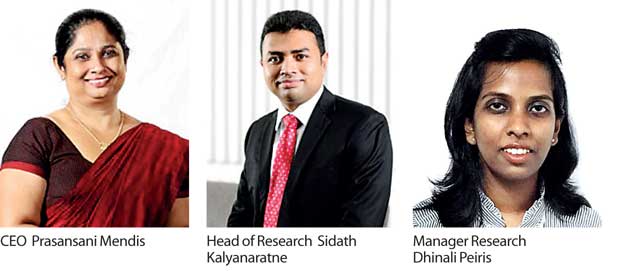 Pioneer stock-broking and equity research firm NDB Securities Ltd (NDBS) published an update on the outlook of the banking sector along with an analysis on nine listed licensed commercial banks.
This report comes as an update to a comprehensive banking sector report done earlier by NDBS. The update delivers better data, analysis and strategic direction on the overall banking sector environment coupled with CBSL stringent requirements laid out by Basel III. The sector update used publicly available data and expert opinion of industry stakeholders to provide information on one of the key sectors listed on the CSE.
NDBS CEO Prasansini Mendis said, "The industry is slowly regaining momentum after a challenging year. We withstood 2016 and many more challenging years in the past through best industry practices, expert knowledge on the industry, time efficient service models, in depth risk management and compliance framework. We are now further equipped to serve our clients betterwith the relocation ofour company to a plush new premise at 135, Bauddhaloka Mawatha, Colombo 4 from this month." She added, "We as a company strongly believe that in depth research will continue to add value to the investor.Going forwardwe expect to deliver similar updates in addition to our in-depth macro, sector and counter publications that will complement services delivered by our experienced advisory arm and state of the art IT and back office system."
NDBS Head of Research Sidath Kalyanaratne said, "This update is released at a time where CBSL has imposed further stringent capital requirements that's compliant with BASEL III guidelines.Under the new Basel III guidelines, in addition to the stringent regulations imposed on all LCBs and LSBs, the domestic systematically important banks (with assets over Rs. 500 billion) have been imposed tighter capital requirements to further strengthen the banking system. Most of the banks are in the process of raising equity to strengthen capital ratios and buffers. Despite the strengthening of the regulatory framework, above measures are expected to change the competitive landscape of the banking sector significantly."
"We won the best stockbroking research team award last year at the capital markets awards 2016 organised by CFA Sri Lanka. Since, we have worked even harder to improve our depth, breadth and quality of research and made increased efforts in sharing our knowledge with the current and potential investment community in our country. We believe this sector update will reflect the industry trends in terms of growth, profitability, risk, stability etc. over the short to medium term," he added
Manager– Research, Dhinali Peiris said,"The loan growth of the banking sector recorded 17.7 percent in 2016. The banks with higher loan share to SME and retail witnessed higher NIM expansion with AWPLR gaining 441 basis points (bps) during 2016. However, going forward we expect a slowdown in demand for new loans due to the impact of monetary and fiscal measures taken by the Government of Sri Lanka (GoSL) in 2016. The banking sector deposits grew by 16.5 percent in FY16 whilst the average weighted deposit rate (AWDR) increased by 197 bps compared to 2015 where the AWDR was mostly stagnant. This increase caused the CASA of the banking sector to decrease from 40.3 percent in 2015 to 37.1 percent in 2016.Further, with the increased consumption taxes, we expect demand for deposits to slow down."
Dhinali added that "In terms of profitability, we do not expect NIMs to further improve from FY16 levels due to reduction of upward pressure on interest rates coupled with declining CASA and increased competition for deposits. Therefore, with restrained forecasted net interest income growth, we estimate the growth in profitability to be rather moderate over the short term."
Sheconcluded saying, "High competition, additional capital and leverage requirements amongst smaller banks will threaten their return on equity in the short run. Hence, we continue to support the banking consolidation which will further strengthen the system and improve banks' access to financing via international capital markets."
NDB Securities is a fully owned subsidiary of NDB Capital Holdings, the capital market arm of the NDB group.