---

From left: Customer Relationship Manager Nisansala Hapuarachchi, Deputy General Manager Bimal Perera, LB Finance Deposits Deputy General Manager Marlon Perera, Managing Director Sumith Adhihetty, Executive Director Niroshan Udage, Mydeal.lk.Ltd Managing Director Damitha Ginigaddarage, Deposits AGM Bharatha Pathirana and IT AGM Chethana Kahandagoda
Pic by Pradeep Pathirana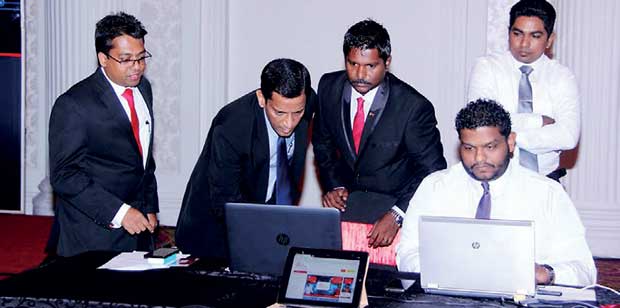 By Zahara Zuhair
LB Finance launched an innovative finance product recently by introducing LB Gift Store, in partnership with Mydeal.lk, Ltd, a pioneer in the Sri Lankan e-commerce industry.
The LB Gift Store enables the fixed deposit and savings account customers of LB Finance to choose their desired gifts by accessing www.lbstore.lk, which is an exclusive site, catering to the LB Finance customers. The e-voucher that is given at the time of placing the deposit provides access for selecting the gift.

"Instead of a physical item given by the company, we are giving the opportunity for the customers to choose whatever they desire through this e-voucher," Customer Relationship Manager Nisansala Hapuarachchi said.

Deposits AGM Bharatha Pathirana said that this is a significant day for the financial sector of Sri Lanka as this novel and innovative product provides goods and services to the customer through an Internet platform offered by a financial institution.

"All this time the customer had to get what the finance company was offering – sometimes it could be an oil lamp, wall clock, etc. But here we give the choice to the customer to decide what they want. That is the uniqueness of this, which is offered for the first time in Sri Lanka. It is offered to all deposit customers from March 29," he said.

"The customer gets an e-voucher on the spot when they deposit. From the voucher the customer can log in to LB Gift Store from anywhere in the world and any time purchase gifts available in the gift store. Also more than 10,000 goods and services are available," he added.

He also said that if the customer wants to get more than the voucher value, the rest of the payment could be paid through the credit/debit card or else with cash at the time of receiving the product. IT AGM Chethana Kahandagoda said that this is a combination of innovation and technology and they will come up with more innovative services and products in the future. LB Finance Deposits Deputy General Manager Marlon Perera said that the customers of all ages, be they senior citizens, kids or young professionals, will benefit from this initiative and these offerings will be available all year round, with added promotions to be held from time to time.

Mydeal.lk. Ltd Managing Director Damitha Ginigaddarage said that they are honoured to be part of this initiative and looking forward to delight the LB Finance customers.
It was noted that in the gift store, the product range includes electronics, mobile phones, home appliances, kids toys, gift vouchers, travel packages, etc. and the items selected by the customer will be delivered to the designated address.