---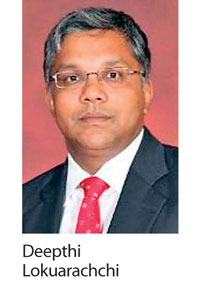 Hatton National Bank PLC subsidiary, HNB Assurance PLC saw its net profit for the quarter ended June 30, 2016 falling by as much as 89 percent to Rs. 7.3 million or 15 cents a share from Rs. 64 million a year ago as the net benefits, claims and expenses were higher.

This is also a steeper fall from the Rs.33.5 million recorded in the March quarter.
Both life and non-life gross written premiums (GWPs) grew by 14 percent year-on-year (yoy) to Rs.1.52 billion.

According to segmental breakdown life insurance GWP rose to Rs.800.2 million from Rs.657 million recorded in the same period last year while the general insurance GWPs rose to Rs.715.8 million from Rs.668.1 million a year ago.

Motor insurance dominated the general business of the group accounting for over 70 percent of the total GWP. The group Chief Executive Officer, Deepthi Lokuarachchi said the business environment had been, "fiercely competitive and a challenging". Lokuarachchi took up the reins in the company just four months ago in May.

According to recent data released by the regulator, Insurance Board of Sri Lanka, there are 28 insurance companies in the country out of which 12 engaged in life business, 13 general insurance and 3 composite insurers – the companies who are in the business of both life and non-life.
In recent times the industry saw some level of consolidation with few deals in the general insurance market happening after the industry split based on life and general yet still the industry is overcrowded.

HNB Assurance also has a fully owned general insurance subsidiary.
Industry players say the general insurance business is tough. With vehicle imports too has now slowed down, the growth prospects in this area too remains cloudy.

Meanwhile the life insurance business which once looked a potential area for growth with the increasing per-capita income is now faced with dim prospects as the inflation and the higher taxes biting in to the disposable incomes of the people making a life insurance policy less affordable.
Sri Lanka's life insurance penetration stands woefully low at just above 0.5 percent of GDP (based on GWP).

Meanwhile for the six months ended June 30, 2016 the HNB Assurance Group posted a net profit of Rs. 40.8 million or 82 Cents a share, 49 percent lesser than what the company recorded a year ago.
The consolidated GWP rose by 17 percent yoy to Rs.3.1 billion.

During the period, the group paid Rs. 926.3 million as benefits and claims, up from Rs.841.3 million a year ago. Administrative expenses has risen by 18 percent yoy to Rs.761. 9 million.
As of June 30, 2016 Hatton National Bank PLC held 59.99 percent stake in the company being the single
largest shareholder.