---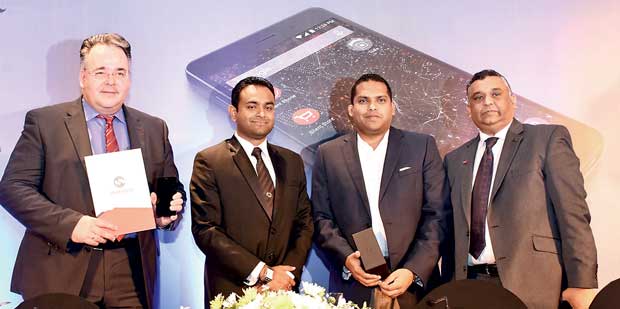 From left Michael Berg, Channel Director, Silent Circle, Asela Waidyalankara. CEO Chelcey Telecom, Harin Fernando, Minister of Telecommunication and Digital Infrastructure and Roshan Motha, Director Chelcey Holdings
Pix by Kushan Pathiraja
The world's most secure phone, the Blackphone 2 was launched in Sri Lanka by Chelcey Telecom recently

The launch took place under the aegis of Minister of Telecommunication and Digital Infrastructure Harin Fernando.

The Blackphone 2, which was launched in the US only in September last year, works on enhanced Android OS, guaranteeing privacy without compromise - delivering expected usability but eliminating security risks inherent in other smartphones.

It has a faster processor, a larger display, a multitude of next generation features, is Google Play enabled and combines Android usability with the enhanced privacy and security of Silent OS.
Stating that he has always been amazed with innovation and commending Chelcey Telecom for paving the pathway to innovation, the Minister said, "Sri Lanka will soon become the first country in the world to have 100 percent coverage with LTE 4G technology, prompting the highest downloading speeds anywhere. It will also soon have total fibre optic coverage, all of which is pushing the country speedily towards becoming an IT hub for the region."

He added that it has been proven that with 10 percent internet penetration, any country gains a GDP growth rate of 1.2 percent. "Sri Lanka currently has only 26 percent smartphone penetration, a percentage we must increase fast if we are to reap the benefits on a national scale."

Addressing the media, CEO of Chelcey Telecom, Asela Waidyalankara stated that with nearly one million daily reported data threats globally, compromise of privacy is one of the biggest threats in today's mobile world.

"Businesses are constantly subject to privacy breaches, which could create extensive repercussions, putting all stakeholders at risk. Therefore, privacy now has to be part of the decision making agenda as the risk it poses is immense. The Blackphone 2 guarantees security from the start, preloaded as it is with Silent Circle's own apps, all of which place you in control of your communication and the data you share."

Channel Director of Silent Circle Michael Berg added saying the seamless integration with leading MDM systems possessed by this Smartphone enables it to integrate into the business immediately so enterprises that are continuously on the go.

"The use of a multiple phones too is eliminated as the Blackphone 2 has up to four separate virtual phones on one device, securely compartmentalized. Each space can be customized to fit to individual's requirements, with access and control solely by the Blackphone user."

Chelcey Telecom is a subsidiary of Chelcey Holdings. It is a young dynamic company that plans to introduce exciting and innovative technology products to the Sri Lankan market.