---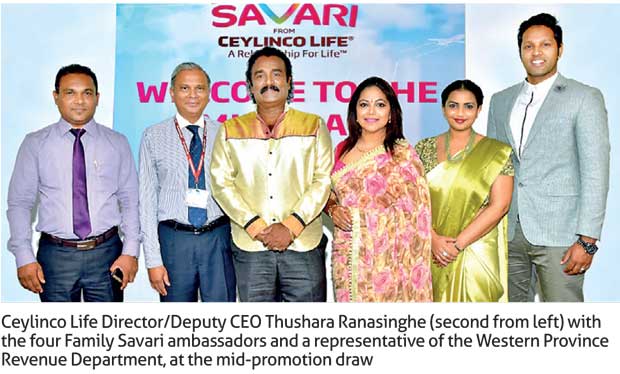 As 2017 draws to a close, Ceylinco Life has given the families of 309 policyholders something exciting to look forward to in 2018, following the conduct of the first draw in the company's 'Family Savari' mega promotion.

The draw has identified 24 of the 50 families that will holiday in Singapore and 285 of the 1,000 families that will enjoy a day at the Leisure World theme park courtesy of Sri Lanka's life insurance market leader.

A grand draw to be conducted in January next year will result in the selection of the rest of the winners – five families that will receive an all-expenses-paid holiday in Rome, 10 that will tour China, another 26 families for the visit to Singapore and another 715 families that will enjoy Leisure World.

The largest customer promotion by far in Sri Lanka's life insurance sector, the Ceylinco Life Family Savari is intended to increase the penetration of life insurance in Sri Lanka and reward the company's policyholders. It runs from September to December each year, during which new policyholders that pay their premiums for three months, as well as active long-term Ceylinco Life policyholders and holders of Ceylinco Life Retirement Accounts (CRAs) can earn multiple winning chances that increase with the age of their policies. This year's Family Savari promotion, the 11th in the series, will benefit 4,260 people from 1,065 policyholder families, an increase of 2,000 over the 2,260 rewarded annually at previous Family Savari promotions.

Over the past five years, Ceylinco Life has presented winners of the grand prize at the Family Savari with holidays in Japan (2013), Paris (2014), Switzerland (2015) Germany (2016) and UK (2017). In all, nearly 20,000 people have won overseas holidays or an excursion to the Leisure World theme park under this programme to date.

Ceylinco Life's Family Savari programme is promoted by four popular brand ambassadors, the Sri Lankan actors Sriyantha Mendis, Sanjeewani Weerasinghe and Roshan Ranawana and his wife Kushlani who join policyholders on their overseas holidays and local excursion.

Adjudged Sri Lanka's Best Life Insurer in 2017 for the fourth consecutive year by World Finance, Ceylinco Life has been market leader in Sri Lanka's life insurance sector since 2004 and has close to a million lives covered by active policies. The company is acknowledged as the benchmark for innovation in the local insurance industry for its work in product research and development, customer service, professional development and corporate social responsibility.