---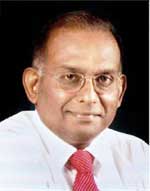 By Srilal Miththapala
There is no doubt that the overall tourist arrivals to Sri Lanka have shown year-on-year (YOY) growth in the past few years. Almost all hotels are returning healthy revenue, occupancy and profitability figures.

However, there are some 'rumblings' from the larger established hotels that the performance has been not all that spectacular as compared to previous years. From an overall country perspective, it is indeed quite easy to check the 'truth' behind these concerns.

To do this, one has only to study in greater detail the growth in the large and small establishments separately as reflected in the 'Foreign Guest Nights' published by the Sri Lanka Tourism Development Authority (SLTDA) itself. Foreign Guest Nights (FGN) are recorded directly from individual hotel establishments, which indicate the actual number of nights spent in a particular hotel by foreigners. (There is also separate data on Local Guest Nights).

The SLTDA also publishes a further sub-division of FGNs into two categories, called FGN in Graded Establishments and Supplementary Establishments. Graded Establishments are categorized by the SLTDA as conventional star-class hotels, while Supplementary Establishments are the smaller guest houses and home stay units (the so called 'informal' sector), registered with the SLTDA.

The SLTDA also tracks the average number of days a tourist has spent in the country, which has been in the order of 9.8 – 10 days per visitor.
Dividing the FGNs by the length of stay, would then reveal the exact number of foreigners who have stayed in the hotels and other establishments.
Hence, it is not a major exercise to ascertain separately the actual number of foreigners who have stayed in the hotels and other establishments.



Analysis
Also significant from the analysis is that there was a growth of 21 percent in all the graded establishments, while the (informal) supplementary sector grew by a spectacular 80 percent,

The total number of tourists as recorded by the Emigration department and published by the SLTDA for 2011 was 855,975, while the 'real' tourists as determined by FGN statistics of the SLTDA is 725,889, which is a 16 percent 'leakage' factor of tourists who do not stay in hotels and most probably constitute the diaspora element. A part of this 'leakage' could also be the tourists who stay in the large number of unregistered small 'Bed and Breakfast' (BB) units that have sprung up in all popular tourist cities on the 'round trip circuit', whose statistics are not caught up in the SLTDA records.

This shows clearly that the 'informal sector' has grown much faster than the 'formal sector' for 2011.



The future
So what of the future? Should we all rush to set up small BB units and stop the development of large scale conventional hotels? Should conventional hotels drop their rates drastically to try and attract the lower-end market?

These are all knee-jerk responses. What Sri Lanka tourism basically needs today is a strategic approach to growth.
Informal sector, new breed of tourist

Certainly, the growth in the informal sector is very interesting. It is fuelled by strong social media, networking and Internet platforms, together with the fact that travelling and exploring Sri Lanka today is very safe and quite feasible to do on one's own, rather than depending on guided tours as a few years before.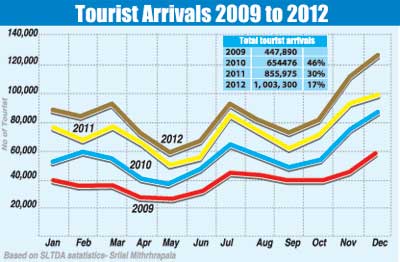 Hence, it is no surprise that a new segment of adventure seeking tourists are fuelling this growth, spending less on their hotel utilizing no frills budget on accommodation and spending more on exploration and adventure.

This new segment of tourists is called 'Flashpackers', a combination of flash (as in fancy), with backpacking, used to refer to an 'affluent backpacker'. Flashpacking has an association of more disposable income while travelling and has been defined simply as backpacking with a bigger budget.

It includes the use of a backpack or other luggage that is easily carried for long distances or long periods of time, the use of public transport, inexpensive lodging, a longer duration to the trip when compared with conventional vacations and an interest in meeting the locals as well as seeing the sights. It is typically associated with young adults, who generally have fewer obligations and thus, more time to travel.

This is not really a bad situation. Actually, this market segment should be strengthened as it is a vibrant driving force, which brings exposure and limelight to the country. It is precisely due to this growth that Sri Lanka has found favour as Lonely Planet's No. 1 destination for 2013. It is this segment of the market that grew some 80 percent and which is still reliant on guide books such as Lonely Planet and GPS Map interfaces.

This growth in the informal sector products is fast catching up with the conventional hotel segment. The SLTDA statistics indicate close upon 15,000 rooms in the conventional hotel category while the supplementary (informal) category rooms have risen to 11,600.

If the unregistered informal category, which is possibly quite large, is added to this it will be evident that the informal category of rooms already out-numbers the formal sector. This is indeed an eye opener, where possibly in the future, the informal tourism industry will have a greater say in setting the course of tourism of the country.




Conventional hotels
So what has happened to the conventional hotel segment? They have far too long rested on their laurels, enhancing their performance on the post-war spectacular growth in numbers and revenues (room rates). No careful redesign of product and service offerings has been done on a major scale to add value and greater experience, which seems to be what the market is demanding.

The conventional hotels with large number of rooms offering the same old restaurant options and facilities are lost in the crowd. There are no real unique selling propositions or differentiating aspects.



On the further end of the scale, the higher-end boutique hotels offering luxurious, personalized and custom built products and service offerings are succeeding in maintaining high growth.




Conclusion
Sri Lanka tourism therefore, needs to take a step backward and call 'time out', to take a good hard look at the new market forces that are impacting the industry and causing paradigm shifts in the way we need to do things. New value-added products and service offerings are needed, breaking out of the conventional shackles to help Sri Lanka tourism grow in a sustainable manner and to become a mature tourism destination.



(The writer is a senior tourism professional and was the former Chief Executive Officer of Serendib Leisure Management Ltd and immediate past President of the Tourist Hotels Association of Sri Lanka (THASL). He also served on the board of the Sri Lanka Institute of Tourism and Hospitality Management. He is now attached to the Ceylon Chamber of Commerce as Project Director of the Greening Hotels SWITCH ASIA project)