---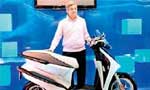 EconomicTimes: Sri Lanka and Africa are fast emerging as the largest export markets for Hero MotoCorp, according to the company's Vice-Chairman and Managing Director, Pawan Munjal.

"Sri Lanka has been a very big market for us. In recent times, we have seen some large volumes out of that market," Munjal told ET on Monday. "Outside of the subcontinent, African markets have also been volume drivers for us."Hero MotoCorp is the world's largest two-wheeler maker by volume. It sells its products in 22 countries, up from just four about a year-and-a-half ago. The company is targeting 10 percent of total sales from overseas markets.

Later this week, Hero MotoCorp will launch its two-wheelers under the 'Hero' badge in Colombia, South America."We will be launching six models - Splendor iSmart, Eco Deluxe, PassionPro, Glamour, Hunk and Karizma ZMR in Colombia. We are starting with 120 dealers and we plan to expand our distribution network to over 150 outlets in a year," Munjal said. Earlier, the company was selling motorcycles in the country under the erstwhile joint brand of Hero Honda.

Hero MotoCorp will also offer a five-year warranty on these models in Colombia, becoming the first two-wheeler company in that country to do so. With an annual volume of about 650,000 units, Colombia is one of the three largest markets in Latin America; the other two being Brazil and Argentina.
Hero's products currently sell in Peru, Ecuador and Colombia in South America, Guatemala, Honduras, El Salvador and Nicaragua in Central America, Kenya, Mozambique, Tanzania and Uganda in East Africa, Burkina Faso, Ivory Coast, Democratic Republic of Congo and Angola in West Africa and Ethiopia in North Africa.

The company is also set to ride into Europe by 2015 and the US and Brazilian markets a year later. According to Munjal, Hero MotoCorp is setting up two overseas manufacturing plants in Colombia and Bangladesh that are expected to go on stream in 2015-16. Hero MotoCorp has also set up assembly units in Kenya, Tanzania and Uganda in partnership with local distributors.In July this year, Hero MotoCorp formed a wholly-owned subsidiary in Colombia and commenced construction of a state-ofthe-art manufacturing plant in the country.