---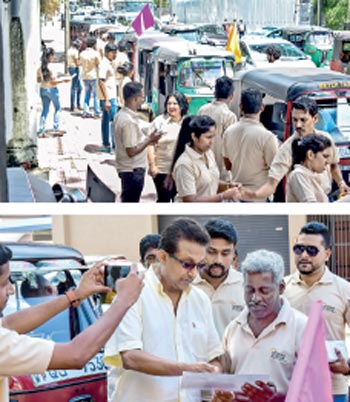 An awareness campaign was held to educate three-wheel owners/drivers to reap long term benefits from tourists by adopting best practices, rather than looking at immediate short term gains.
The campaign was carried out by NKar Travels where they briefed the three-wheel drivers on the following, avoid reckless driving, over-charging passengers, avoid sexual harassment and its repercussions, eliminating drug, liquor and other deadly substances whilst driving and to avoid the promotion of drugs to passengers. They were also briefed on best-practices to be be decent and polite to the passenger.

The well thought of campaign is considered a socially responsible project to support drivers, the industry and the nation.

Commenting on this initiative, NKar Travels and Tours Managing Director Nilmin Nanayakkara said: "People on the street were amazed at the way in which it was organised and it was certainly a pleasant sight to see the three-wheel drivers showing immense interest and enthusiasm when the staff of NKar was stopping them for a short briefing and issuing hand-outs in all three languages that can even be displayed in their vehicles to multiply the message."

Towards mid-day with the congestion of traffic that included three-wheelers down Green Path, the word was spread and their participation to support the campaign was commendable. As a gesture of goodwill NKar Travels and Tours (Pvt.) Ltd sponsored 4000 litres of petrol to the participants.
The campaign which was the brain-child of NKar Travels and Tours Managing Director Nilmin Nanayakkara received the full support of Sri Lanka Tourism, the Tourist Police and media.