---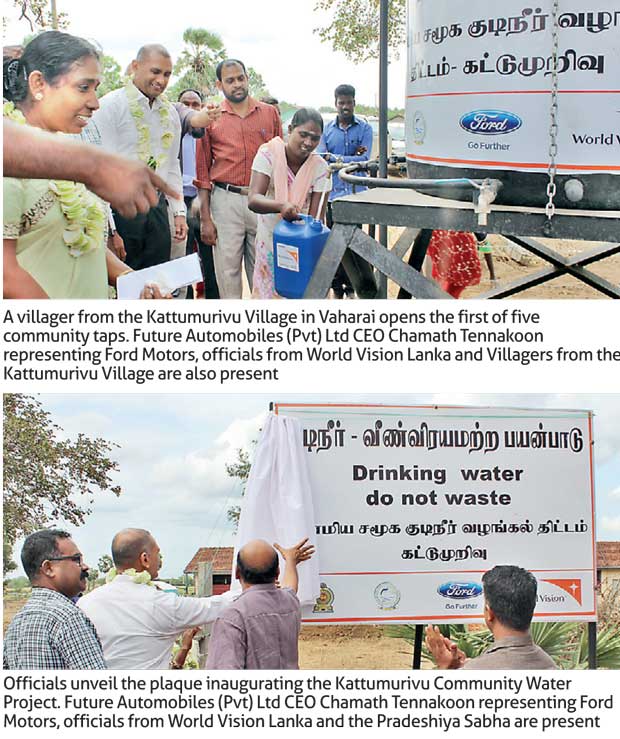 Ford Motor Company, together with its local distribution partner, Future Automobiles (Pvt) Limited, a subsidiary of Softlogic Holdings PLC, collaborated with World Vision Lanka (WVL) to provide safe drinking water to 223 families in the Kattumurivu Village, Vaharai.

Ford's donation under Ford's Conservation and Environmental Grants programme and a matching grant from World Vision contributed towards the successful completion of the Kattumurivu Community Water Project.

Prior to this project, the re-settled families in the Kattumurivu village faced severe hardship in collecting water for drinking and sanitation, as the available well water was not drinkable due to its high salinity.

To overcome this situation, the Kattumurivu rural water supply CSR initiative undertook the installation of a rainwater harvesting scheme, a well to collect ground water and a single storage tank holding 5,000 litres to blend water from the well with rain water. Five distribution tanks with community taps were strategically located throughout the village guaranteeing each family has access to ten litres of clean water per day.

The completed project has been vested in the Kattumurivu village community directly benefiting all 223 families, amidst the presence of all stakeholders.

"We are proud to complete this innovative project in partnership with World Vision," said Future Automobiles Chief Executive Officer Chamath Tennekoon. "This is one of many ways of how rural communities can benefit from many stakeholders joining forces, working tirelessly together including the Divisional Secretary, the Pradeshiya Sabha, with the collaboration of the Water Board, contributing their expertise to make a real difference in people's lives."

Commenting on its role, WVL National Director Dhanan Senathirajah added, "World Vision Lanka is committed to serve the most vulnerable communities in Sri Lanka. We are extremely grateful to Ford in partnering with us to bring clean water to one of the poorest communities in Vaharai. We will continue to build on this partnership to work together for the well-being of children."

In order to develop a more effective and sustainable solution towards the perennial problem of water scarcity in the area and provide uninterrupted access to clean water, the second stage of the project is also being planned. This phase envisages the diversion of the Kattumurivu river to provide individual household water connections to these families. For the past few years, Ford has contributed to several local projects in Sri Lanka including raising communities' awareness on sustainable farming and water saving methods through an agricultural livelihood project in Kilinochchi and providing prevention measures to minimize damage caused by forest fires in the southern border of the Knuckles Forest Reserve in the central highlands of Sri Lanka.