---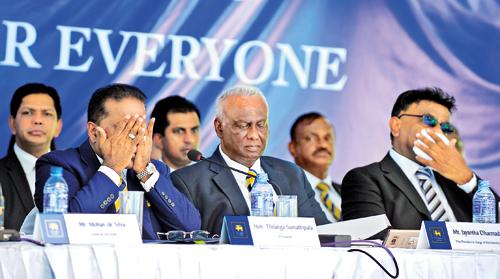 The foes have united. Businessman Jayantha Dharmadasa this week seized opportunity to get back into cricket administration when K. Mathivanan vacated the post of Vice President on Wednesday after accusing Sri Lanka Cricket (SLC) of "carrying out duties without transparency and integrity".
It took just few hours for the SLC board to accept Mathivanan's resignation and embrace their old foe. The Dharmadasa-led camp had failed to seize power at SLC elections in May last year. It's unclear what prompted Dharmadasa to join up with a group he had so stingingly criticised in the run-up to that poll. As in politics, there are no permanent friends or foes in cricket administration.
"If you want corruption and fraud at SLC then don't vote for us," Dharmadasa told media ahead of the February 2019 poll.
"But we have the experience to bring Sri Lanka back to its glory days without indulging in corruption."
Dharmadasa had made a similar attempt to join ranks last year. He made a request through the Sports Ministry to fill the vacancy left by Thilanga Sumathipala's exit following the enactment of new regulations barring people with connections to betting and gaming industry from holding office in National Sports Associations (NSAs). This was unanimously rejected by the Executive Committee then.
Dharmadasa was SLC president from 2013 to 2015 but was sacked following a disappointing World Cup performance in 2015 by then Sports Minister Navin Dissanayake. He joined hands with arch rival Sumathipala to defeat a group led by Arjuna Ranatunga and his brother Nishantha at the 2016 cricket election. That marriage did not last long. Dharmadasa resigned from the vice presidency a few months later.
He then contested the 2019 cricket election in collaboration with the Ranatungas but the membership overwhelmingly voted in favour of a group backed by Sumathipala.
According to SLC sources, Dharmadasa will take charge of international cricket – one of the main pillars of cricket administration – under his wing. Vice President Ravin Wickremaratne is currently in charge of both international and domestic cricket. Usually, two Vice Presidents oversee international and domestic cricket but Mathivanan had been just a figurehead, having had no role to play.
The only office bearer elected from outside the Sumathipala-backed faction, Mathivanan understandably had a deteriorating relationship with fellow members in the Executive Committee. The Board says his resignation came in the wake of an Executive Committee decision to launch an inquiry against him "for indulging in unethical practices" as an office-bearer.
The veteran administrator vehemently denied the allegation. "I am ready to face any inquiry," said Mathivanan, popularly known as Mr Clean in cricket circles. "The current administration carries out their duties without transparency and integrity in such a manner which makes it impossible for me to remain in such a set up. They did not provide me with 'notices of meetings, with agenda and Board papers'."