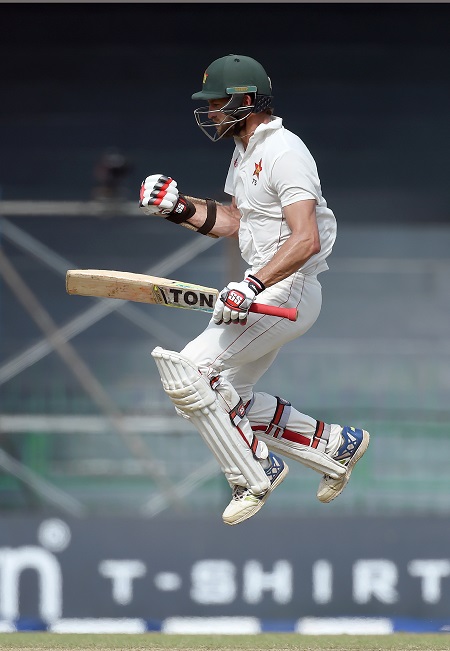 By Shehan Daniel
After seeing Zimbabwe stage a remarkable comeback from 70 for four in the morning session to 344 to eight at stumps, Sri Lanka Cricket Manager Asanka Gurusinha said early wickets would hold the key for the hosts when the one-off Test resumes at the R. Premadasa Stadium today (15).
"The first thing (we need to do) is to get the next two wickets very early, because we can bat the whole day then. It's not just about hanging around. The batsmen will have to play their shots and play normal cricket. We have a really good batting line-up. I expect our guys to be there and bat session by session. (But) The first thing is the half an hour to one hour to get those wickets," Gurusinha said.
He said once the moisture in the pitch dried up after Zimbabwe lost their first four wickets life became difficult for the Sri Lankan bowlers.
"The feedback I got from the players was that there was moisture in the morning, so the track did turn a bit, and the ball did a little bit. After lunch it settled down so much, and even now, when I spoke to them, they said the ball comes slow off the wicket, and doesn't do anything. It's more like an old Premadasa wicket," Gurusinha said.
"I think that's the reason they were 94 for four and then went on to do that. We did bowl some loose stuff. We were lucky to have Rangana there, but even against him they had time to get on the back foot and pull him, because it wasn't coming on at the pace we were expecting."
"It is a bit disappointing to end up at 340 for eight after taking the top four wickets cheaply. But this is Test cricket, and I've got to give credit to Craig Ervine. It was a really good knock and he batted well," Gurusinha said.
Gurusinha also expected Sri Lanka's batsmen to pile on the runs.
"The way the track is playing, I'm expecting our batsmen also to put their heads down and bat long. They got runs at the end. Especially the last session you saw there were no demons in the wicket. It was easy to play shots and even their No. 10 was batting well. That showed there was enough time to play the shots. I'm expecting our guys to do well," he added.
Ervine pleased with career-best knock
It was a hard day's sweat for Zimbabwe's Craig Ervine but the reward was a career-best unbeaten 151 which put Zimbabwe in a good position at the end of the first day of the one-off Test against Sri Lanka which began at the R. Premadasa Stadium yesterday.
Ervine said the innings was 'satisfying', and that he hoped the Zimbabweans can put on another 50 or 60 runs.
"It was very satisfying. Especially, I have scored few hundreds but they were all at home. To get one in Sri Lanka and in a Test match means lot to me," he said.
"At the start, the wicket was little bit damp. But once it dried out, it was a nice wicket to bat on. We went at a good rate throughout the day. I was thinking we may have given a couple of wickets away. Other than that, we fought back nicely towards the end of the day. Hopefully, tomorrow, we can put on another 50-60 runs on the board."
After the Zimbabweans went into lunch on 96 for four, Ervine said, the plan wasn't to go on the defensive but to focus on playing to each batsman's strengths.
"Game plan was rather to bat as long as and play your strong shots as an individual. I just thought, the longer you batted out there, the easier it got. The wicket definitely got easier to bat on. I was just trying to put a couple of partnerships together," he said.
He put more than a couple of good partnerships together, putting on three half-century stands which frustrated the Sri Lankan bowlers for much of the afternoon and evening yesterday.