---

Following are the excerpts from an interview with Airport and Aviation Services (Sri Lanka) Ltd (AASL) Executive Director Johanne Jayaratne.
What is the role of Airport and Aviation Services?

We are a government-owned company with statuary powers to manage and develop civil airports in Sri Lanka. That includes Bandaranaike International Airport (BIA), Mattala Rajapaksa International Airport (MRIA) and Colombo Airport Ratmalana.

We provide airport management, aviation security, airport safety and emergency services to ensure the security and safety of passengers and aircraft.

Also, we maintain airport terminals and associated passenger facilities.

We are also the air navigation service provider (ANSP) within the Colombo Flight Information Region or FIR – the sovereign airspace belonging to Sri Lanka, which covers an area of approximately 625,000 Sq.NM. This is mainly oceanic airspace extend mostly towards the east.

As the ANSP, we ensure the safe and orderly passage of aircraft within our FIR. We conform to all standards and recommended practices (SARPs) stipulated by the International Civil Aviation Organisation (ICAO) and Civil Aviation Authority of Sri Lanka (CAASL). We are also an ICAO-accredited civil aviation training provider.

BIA's network comprises of a total of 37 international airlines that reach approximately 37 eastbound and 19 westbound destinations.
BIA handled approximately 61,000 aircraft movements in 2017, averaging approximately 170 movements a day, despite three months of runway closure for eight-hour periods.

A lesser-known fact about us is that we are a leading, profit-making public enterprise, making an enormous contribution to the national economy. We are the government's institutional arm, which manages airports, air navigation services and other related ancillary services.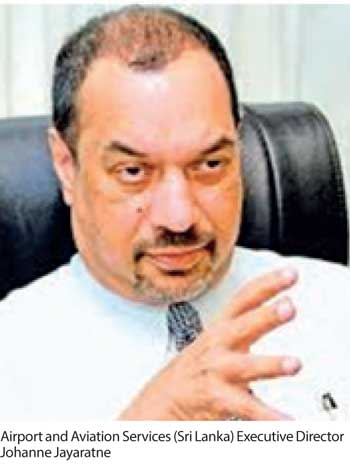 What about passenger capacity?

We have identified the need to double the passenger and cargo handling capacity at BIA within the next five years and the construction work necessary for such capacity enhancement will commence soon.

We have also transformed ourselves into a marketing-oriented public company capable of handling competition and also to deliver value to our passengers using our terminals.

We are planning to promote domestic aviation using the existing infrastructure at civil aerodromes scattered around the country and thereby spread our services across the island.

Can you say something about the history of our airports?

With the birth of aviation in Sri Lanka in the 1930s, Ratmalana Airport (RMA) served as the first international airport in Sri Lanka to manage the postal services with neighbouring countries.

Today, this airport is the focal point of all flight training activity in the country. It also hosts domestic commercial operators. This airport launched a new business model of hosting corporate jet air traffic in 2011, which has grown steadily since then, given the rapid development taking place in the country.

BIA followed soon after as the first fully-fledged international airport and continued to be the only international airport in Sri Lanka until the commissioning of MRIA in 2013.

BIA has been Sri Lanka's main international gateway, economically, socially and politically. We had around 9.4 million movements in 2016, notwithstanding its design capacity being only six million pax per annum. This is 50 percent over our capacity. In such a scenario, one could imagine the strain on the facilities but we have coped remarkably well. Our company recently completed the big task of resurfacing the runway of BIA – a US $ 50 million endeavour – which was carried out in just three months.

How has AASL fared, given the many challenges faced in the recent past?

We achieved many of the strategic objectives set out at the beginning of the year while providing the required returns to our stakeholders. We recorded a double-digit year-on-year (YoY) growth in air traffic figures over the previous fiscal year.

While there was a downturn during the runway closure period during 1Q of 2017, it picked up after that. Consequently, end-2017 statistics have been reported with slight YoY growth percentages of 1 to 2 percent.

But, MRIA showed a negative YoY growth in 2016. During 2017, there was a definite growth recorded because some of the airlines used MRIA during BIA's runway closure.

In terms of revenue, we made Rs.18.3 billion in 2016. This is a 17 percent growth compared to Rs.15.7 billion in 2015. This resulted in the revenue per passenger increasing to Rs.1,938 from Rs.1,846 in 2015.

The commercial income growth was largely driven due to fresh tendering for duty free shops and other operators with longer contract periods of three to five years.

Moving on, does Mattala Airport have any visible progress?

Contrary to popular belief, MRIA fulfils a valuable service. We now have an airport we can divert aircraft, especially for those aircraft carrying less fuel in case of a diversion, which in turn translates to additional pay load for the airlines. There is no doubt that it translates into millions of dollars annually.

AASL remains confident that MRIA will soon be a fully-fledged viable entity, independent of BIA's parenting. One must perhaps look at MRIA as an extension of BIA's operation, rather than as a failed project.

Coupled with activities of the seaport, these two entities have enormous potential if proper strategies are put in place. This will come into play once the destination develops. In the case of MRIA, people fly to destinations – not airports.

What are some of the key developments regarding domestic aviation?

In line with the development of domestic civil aviation, civil and military joint operations were launched at the Batticaloa airport in 2016 and we were appointed as the service provider. The commencement of domestic civil air operations will happen soon.

New demand will continue to drive the development of all other domestic airports all over the island. Tourism continues to play a vital role in guiding us and both entities are working for a hand in glove in this regard.

How is AASL positioning itself to help Sri Lanka to become a regional hub, given our cost structures?

We are working towards achieving a regional aviation hub status for Sri Lanka in accordance with the policy of the government. To achieve this, we need to follow a holistic approach to promote Sri Lanka as a multi-purpose destination for tourism, business, transit of passenger, cargo and air-to-sea/sea-to-air transshipments.

The tourism sector is a crucial sector to propel the country's economic growth. AASL, along with the Sri Lanka Tourism Promotion Bureau, SriLankan Airlines and other key stakeholders will play a leading role in jointly marketing the country and the two gateways into Sri Lanka.
BIA being the main gateway to Sri Lanka, the existing target market(s) of BIA will be secured and further promoted. The niche markets will be explored and exploited for the benefit of MRIA and RMA.

As a commercial public enterprise with the aim of strengthening it and enhancing financial discipline, as recommended by the International Monetary Fund (IMF), on March 15, 2017, we signed a three-year tripartite agreement for Statement of Corporate Intent (SCI) with the Finance and Transport and Civil Aviation Ministries. This move is in line with the country's economic goal of enhancing the contribution made to its gross domestic product (GDP).

It expects to encourage and facilitate us to improve operational and financial efficiency by giving reasonable managerial and operational autonomy to operate as a commercial public enterprise. This agreement was subjected to its first six months review.

AASL is expected to perform through improved corporate practices, innovative financing, strong and prudent financial management, exposure to competitiveness, international best practices and effective human resource management while enhancing public accountability.

What is in store for the future?

Let me be candid here, aviation is by far one of the most dynamic industries in the world. What is true in the morning, has changed by evening. We, as AASL, need to be in a position to adjust course and make rapid decisions at the drop of a hat.

That is the only way we can be competitive in the region, facilitate Sri Lanka in becoming the premier tourism destination and be able to give our guest a good experience at the airport.

I say this because our two primary customers – the airlines and passengers – are discerning as well as demanding when it comes to value for money.

We need to have the flexibility to upgrade, change and adapt. However, being a state-owned business enterprise, we are subject to the constraints of rules, regulations and circulars laid down over 70 years ago. I cannot overemphasise the need for a radical policy change to support key industries such as aviation. Sri Lanka is making bold decisions and strides in this direction. I hope the needs of aviation are addressed as soon as possible.

(Cathrine Weerakkody, an associate member of CIMA, a graduate in financial management (UK) with a master's degree in financial analysis (UK), currently works as an investment analyst)