---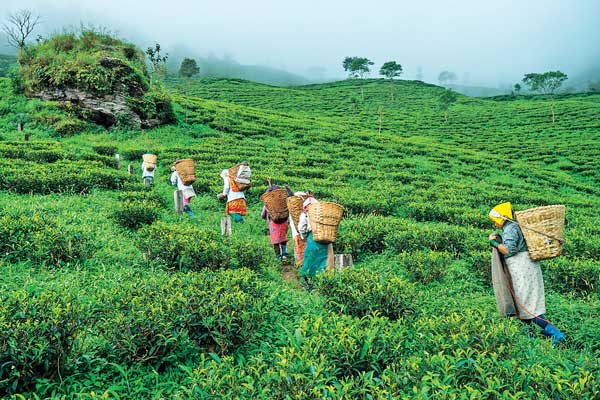 Ceylon tea has a rich heritage that spans across centuries and is heralded as a glowing success story.

Tea was an export industry that started as an experiment to replace a troubled coffee trade and ultimately grew into a thriving enterprise that paved the way for the creation of the iconic 'Pure Ceylon Tea' brand, which became synonymous with quality around the globe.

Today, the industry is at an important crossroads and three industry experts, Ceylon Tea Brokers Director/Chief Executive Officer Suranga Perera, Ceylon Tea Brokers Director/Chief Operating Officer Waruna De Silva and Ceylon Tea Brokers PLC Executive Director Saminda Deshapriya in this interview are sharing their input on the current challenges that the industry is facing, along with their advice on the best way forward.

Stuck in a rut
In recent times, this industry has faced increasing challenges on multiple fronts, commenting on its status today, Deshapriya said, "In the last two years, Sri Lanka's tea industry has reached a phase of stagnation and despite an increase in prices this year, lower production has led to marginally lower revenues.
A reduced quantity of tea has been exported in comparison to the previous year and revenues have slowly been dipping over the years. In 2014, Sri Lanka made US $ 1.63 billion worth of revenue from tea exports; in 2015 it reduced to US $ 1.34 billion.

From 2013 onwards, revenues have been stagnant and static and with export values showing no sign of substantially increasing, it's clear that the industry is simply not moving forward."

Negative global factors
Elaborating on the key global factors that are causing this decline, Perera said, "Most of our export destinations are oil export-based countries and the decline in oil prices in the Middle-East over the last two years, has affected consumer spending in all of our major export destinations such as Russia, Iraq, Iran, Dubai and other Middle-Eastern countries.

If you look at it from a global perspective, about 40 percent of all oil is exported from Middle-Eastern countries and there are several factors that have caused the reduction of oil prices. Firstly, the fracking industry (shale oil production) has decreased the power that OPEC has to balance pricing. The moment oil prices climb, shale oil producers pump more oil into the global market-place, negating demand and causing prices to drop.
The global export value of oil has reduced by about 40 percent in 2015 compared to 2014 and this has adversely affected the economies of many Middle-Eastern countries – which are incidentally Sri Lanka's top tea importers. Russia is the second biggest exporter of oil and Iraq is number three. To break even, they have to sell a barrel of oil at US $ 80 and above. This has negatively impacted their economies, leading to lower spending, currency devaluations, reduced GDPs and less consumer spending (wages and incomes are reducing)."

Effects of instability and currency shifts
Highlighting other factors that have affected the industry from a global perspective, De Silva added, "The strengthening of the US dollar has weakened the buying power of other countries, as they have to pay more in their currencies to buy tea and this has increased the price for them.
The shrinking of the Chinese economy is also a key factor as China is a huge consumer of energy and oil. Its economy has been gradually slowing down since 2015, which has in turn affected global markets, thereby affecting Sri Lanka's tea industry.
Political instability in the Middle-East is also having a ripple effect on the region's economy. If you look at countries like Syria, Turkey, Iraq and Libya, they have all faced internal clashes and political instability.
Even after the sanctions on Iran were removed last January, strong banking networks have not successfully been established in Iran and challenges with payment methods is limiting the quantity and frequency of purchases. Going forward Brexit has paved the way for future uncertainty in the European markets – currently even the global economy is not stable and there is a downward economic trend which is prevalent at the moment and needs to be overcome."

Local issues at hand
Explaining local factors that are affecting the trade, Deshapriya stated, "There has been a significant production decline in the tea industry; currently we've noted a decline of 19 million kilos in production up to June this year, in comparison to the first six months in the previous year.

The lack of production has been due to adverse weather conditions, which has resulted in revenue being marginally lower than the previous year. There are hardly any fixed weather patterns now, when rain is needed, often there is a period of drought and vice versa, these climatic shifts and weather patterns are having a negative impact on overall production."
He further added, "Due to the revision of fertilizer prices, growers are using less fertilizer, which is ultimately affecting production yields. Additionally, the recent banning of weedicides without the provision of a suitable alternative has led to growers having to resort to manual weeding, which is time-consuming, impractical and has a negative impact on the soil. This in turn has negatively impacted core processes and the quality of the final product.

When global prices reduce, Sri Lankan tea prices also reduce. In turn, the price that the growers get for their green leaves gets reduced. Due to low profit margins and minimal returns, many plantation companies have also moved into new industries that have the potential to generate greater financial returns. Therefore, we have to address the production issues and find innovative ways to increase yield. We also have to educate tea factory owners and their staff about the best manufacturing practices and give them the tools required to stay competitive."

Mitigating rise of labour costs
Explaining other local factors, Perera said, "Another key local concern that's affecting the industry is that labour costs are increasing and plantation companies are struggling to incur the additional cost – at present, 70 percent of all costs are due to labour. Since labour costs are increased on a biannual basis, the costs of the many plantation companies have gone up considerably over the years.
Labour shortages are also affecting the industry, where people are finding alternative jobs that offer higher pay and benefits. Younger generations prefer working in the apparel and retail industries over traditional tea companies. The industry is struggling to attract new young talent and there is a very small quantity of people being drawn to careers in the industry."

Building a sustainable industry
Commenting on the way forward, Deshapriya said, "Going forward, we need to ensure the sustainability of the industry. If you look at the four biggest importers of tea in the world, Pakistan, Russia, the USA and the UK, we are only present in Russia in a significant way. We were the biggest tea exporter to Russia but India overtook us in 2015. In regards to the other top three destinations, we export less than 4 percent of their total import volumes of tea.
Kenyan tea is more popular in the UK markets due to the price factor and the US market is shifting towards using ready-to-drink (RTD) teas. Looking at the rest of the European markets, it is clear that we have not exploited their full potential. It is essential that we work tirelessly to capture a greater market share in the other main markets which we specified, so we can increase our global export footprint."

Understanding market and opportunities
Explaining how Sri Lanka should change its strategy to achieve growth in the tea industry, De Silva said, "Sri Lanka currently is concentrating on the efficiency gap at hand rather than focusing on the opportunity gap, as much as it's important to improve processes, there is also an opportunity gap that we are not addressing. We need to capture opportunities by creating a tea hub in Sri Lanka. We have been using the same model and strategy for decades and we could have continued to do so if technologies and consumers didn't change.
Other countries like Dubai, Germany, Belgium, Switzerland and Poland that used to import tea are now exporting teas and are turning into our competitors. We need to look very closely at who our consumers and competitors are going to be in the future, if we want to take the industry forward."

Building thriving tea hub
We need to make Sri Lanka a tea hub that adheres to the necessary safeguards and regulations. We have to capture markets that we don't have a strong presence in and stop looking at tea as a mere commodity and explore the full potential of the global beverage industry.

We need to capture non-consumers and convert them and it is quintessential that going forward, we consider the sustainability of the entire industry in the long term. The industry players cannot afford to think in silos about their short-term profitability, everyone has to look at the industry more holistically when making decisions and work together to make Sri Lanka a thriving tea hub."