---
(Colombo) REUTERS: Sri Lankan authorities destroyed more than 767 kilogrammes of cocaine with an estimated value of more than US $ 100 million yesterday, at a special facility near the capital Colombo.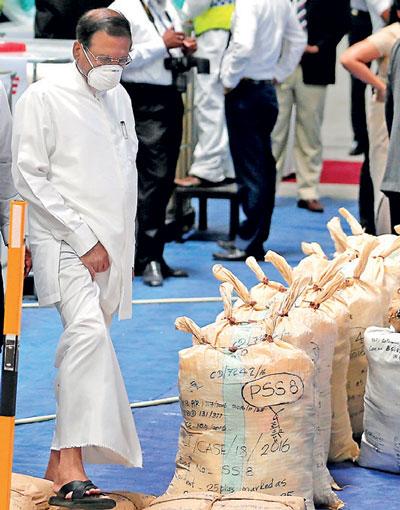 President Maithripala Sirisena walks past the haul of seized cocaine sacks to be destroyed under judicial supervision in Colombo
The drug was transported under heavy security to a specialised facility in the free trade zone near the international airport. They were weighed and then dissolved in special containers under the supervision of judicial officials. The liquid cocaine would then be taken away to be burned and destroyed.

After inspecting the process, President Maithripala Sirisena said that he would set a date to carry out the death penalty against convicted drug smugglers, as the country pushes ahead with a plan to reintroduce the death penalty for drug offences.

Sirisena said last year he wanted to resume hangings after a decades-long hiatus. The government began advertising last month for the position of executioners. The hardline policy is in part inspired by the Philippines' war on drugs, where thousands have died in encounters with police.