---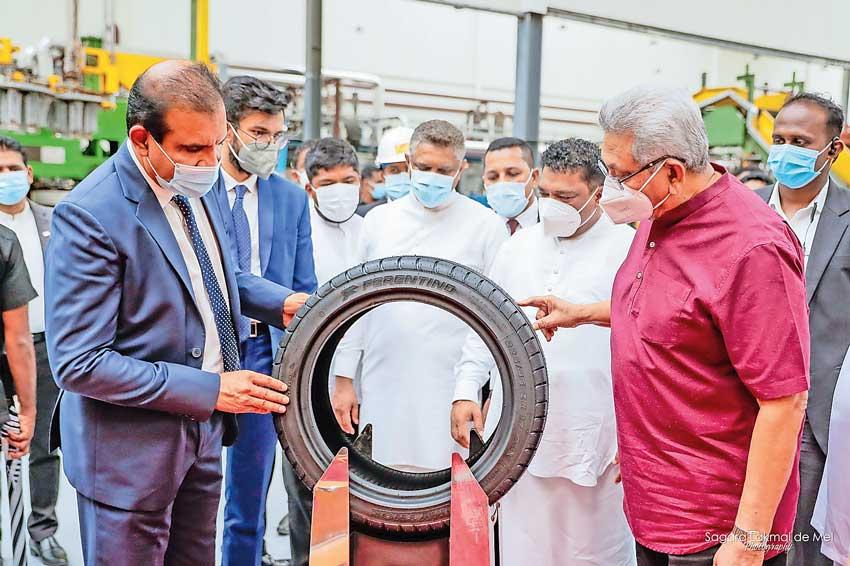 President Gotabaya Rajapaksa with Onyx Group chief Nandana Lokuwithana inside the Ferentino Tyre factory following the opening
Pic by Pradeep Pathirana
President Gotabaya Rajapaksa declares open Ferentino Tyre plant
Total investment US$ 250mn; investment for first phase at US$ 100mn
Foreign joint venture partner sought to development second phase of the project
80% of the plant's production would be mainly exported to European and US markets
By Nishel Fernando
The first phase of South Asia's largest tyre manufacturing plant, Ferentino Tyre - which was formerly known as Rigid Tyre - was opened by President Gotabaya Rajapaksa yesterday.

Spanning across 155 acres in Wagawatta Industrial Zone in Horana, the overall investment of the project is estimated to be US$ 250 million, including US$ 100 million in the first phase.

The project is the brainchild of entrepreneur Nandana Lokuwithana, who heads the UAE-based Onyx Group and
Ceylon Steel Corporation.

With ability to cater to the entire demand of the local market, the plant has a capacity to manufacture one million industrial tyres per annum for two-wheelers and three-wheelers. The plant would also manufacture industrial tyres for buses and trucks.
The first phase of the project is 100 percent owned by the Onyx Group led by Lokuwithana. With regard to commissioning the second stage of the project, Lokuwithana revealed that plans are underway to enter into a joint venture with a foreign entity.

Eighty percent of the plant's production would be mainly exported to European and US markets where the company has already established its presence.

As a part of its strategy to serve both local and international markets, Onyx Group has acquired Marangoni Group's solid tyre business, which has 15 percent market share in Europe, including Marangoni industrial Tyres Lanka (Private) Limited in Sri Lanka.

The Marangoni brand has also been licensed to Onyx Group, limited to the manufacturing and distribution of solid tyre products, under Jumbo, Forza, Eltor and Quickmont brand names.