---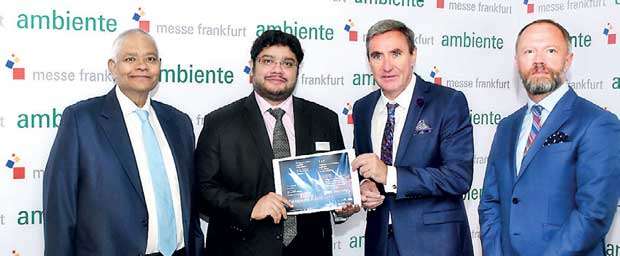 From left: Messe Frankfurt SP Sri Lanka Director Hadi Salahuddin, Messe Frankfurt SP Sri Lanka CEO Omer Salahuddin, Messe Frankfurt Group Senior Vice President Consumer Goods and Board Member Stephan Kurzawski and Messe Frankfurt Group Director Marketing Erdmann Kilian
Pic by Kushan Patiraja
By Nishel Fernando
Sri Lanka plans to have its own country pavilion at the world's largest consumer goods show, Ambiente in 2020 organised by Messe Frankfurt.

Addressing a media briefing in Colombo yesterday, Messe Frankfurt SP Sri Lanka CEO Omer Salahuddin revealed that Messe Frankfurt has been working with Export Development Board (EDB) and Industry and Commerce Ministry to have a country pavilion for Sri Lanka at the 2020 Ambiente show to showcase Sri Lankan consumer goods, particularly handicrafts.
Salahuddin noted that five Sri Lankan exhibitors are expected to participate in Ambiente next year to showcase their products.

Ambiente is scheduled to be held from 8 – 12 February 2019 in Frankfurt am Main, Germany.

Addressing the press briefing, Messe Frankfurt Group Senior Vice President Consumer Goods and Board Member, Stephan Kurzawski noted that Ambiente 2018 featured around 4,441 exhibitors and attracted 134,600 trade visitors from 168 countries, presenting classic and innovative products over five days.

He highlighted that Ambiente offers a wide range of events, programmes for newcomers, trend presentations and award ceremonies, all at the same time.
The top 10 visitor nations (excluding Germany) include Italy, China, France, United Kingdom, United States, Netherlands, Spain, Turkey, South Korea and Switzerland.

Kurzawski emphasised that Sri Lankan designs are in demand at the trade fair while noting that Sri Lanka is rich in handicrafts, ceramic and other decorative items.
According to organisers, the flow of Sri Lankan buyers going to Ambiente fair to buy high-end lifestyle products have been increasing every year.
"As the demand of Sri Lankan household keeps changing, retailers will need to response quickly to the changing trends. At Ambiente this can be seen at the various halls, events and presentations," Kurzawski said.

He pointed out that the trade fair would also be a good opportunity for Sri Lankan manufactures to get inspired by various designs and innovations displayed .
Kurzawski affirmed that Frankfurt is thus the number one trading location for volume business outside China.

"Fascinating presentations and valuable tips running on all five days of the trade fair will provide insights to current market developments. Experts will present how to compile attractive product ranges and how to position products in the best possible way," he elaborated.

Meanwhile, Salahuddin revealed that seven Sri Lankan firms and two designers are signed up to participate for Messe Frankfurt's Texworld Paris, the international fair for fashion fabrics, trims and accessories, which would be held during 17-20th of September, this year.

The biannual event will feature 15, 000 visitors and 1, 700 exhibitors.

Sri Lankan designers are also expected to hold their own fashion show 'Sri Lanka on Stage' on September 20 as part of the event.

Salahuddin said the Sri Lankan fashion show will be one of the most eye-catching events at the Texworld.

He said that overall there are nearly 40 exhibitors from Sri Lanka who will take part in Messe Frankfurt's exhibitions all year around.

Speaking of Sri Lanka's prospects, Kurzawski noted that the country's product portfolio remains very attractive to the European consumer as the products are tailored to meet the tastes of the European consumer, which Sri Lanka should capitalise on.

When queried if Messe Frankfurt plans to make Sri Lanka a partner country at Ambiente similar to India, Kurzawski said, "We need a certain volume, as well as willingness of associations and the government".

Messe Frankfurt also plans to open its local outbound sales office in Colombo this year.

Messe Frankfurt is the world's biggest trade fair, convention and event organiser with its own premises. It holds 146 trade fairs and exhibitions worldwide attracting 4.4 million visitors and 95,000 exhibitors annually.

Messe Frankfurt employs a workforce of 2,400 in around 30 sites and generates annual sales of around 669 million euros. The group based in Frankfurt am Main is owned partly by the City of Frankfurt (60 percent) and State of Hesse (40 percent).