---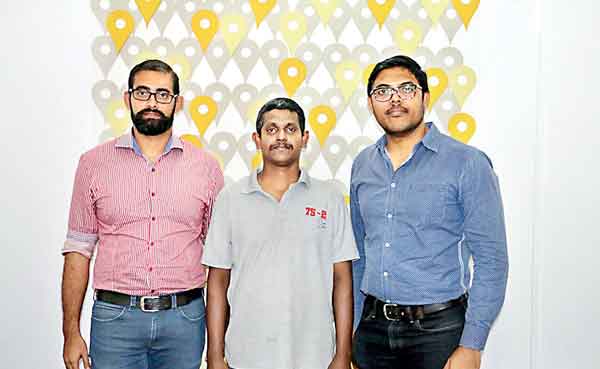 Tuk driver Sathish Kumar who handed over the Rs.2million (centre) with PickMe CEO Jiffry Zulfer (right) and PickMe Head of Operations Fathhi Mohamed
A driver belonging to Sri Lankan online taxi hailing service provider PickMe has returned Rs.2 million to a passenger, who had accidently left the money in a tuk tuk. After a routine taxi ride, the PickMe driver Sathish Kumar had found a parcel left on the seat of his tuk tuk by a passenger. He had examined the parcel and upon finding a large amount of cash, had promptly returned to the passenger. PickMe CEO Jiffry Zulfer said the customer personally came to the PickMe office to commend the driver. Zulfer said this was another testament to the success of the rigorous screening process the company has adopted in recruiting drivers.
However, he said that there were no absolute guarantees as to the best behaviour of drivers as there might be an exception to the rule, which is beyond their control. "But the most important thing is we have proper systems in place and this system supports good behaviour. The traceability and trackability at all points are the hallmarks of our technology and this goes a long way towards supporting both the customer and the driver.
We also take customer complaints very seriously and take immediate action on any negative feedback." Zulfer also said that their control centre can track the drivers at all points, which is yet another safety measure installed for the driver as well as the passengers.
"This not only aids in creating extra security but also encourages trustworthiness and accountability," he noted. PickMe is considered one of the most successful start-up companies in the country. The firm, which currently has over 4,500 taxies with a customer base of 400,000 downloading the app, recently secured Rs.150 million funding from private investors.