---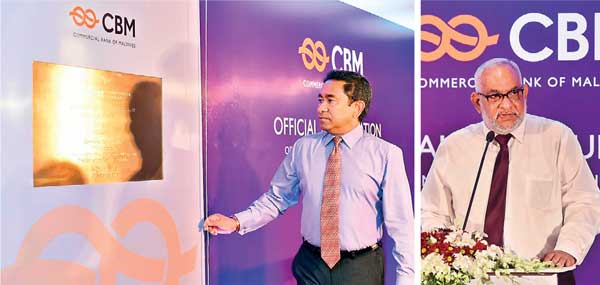 (Left) Maldivian President Abulla Yameen Abdul Gayoom unveiling the plaque at the opening of Commercial Bank of Maldives and (right) Commercial Bank of Ceylon Managing Director Jegan Durairatnam speaking at the opening ceremony
History was made when Commercial Bank of Maldives, a subsidiary of Commercial Bank of Ceylon and a joint venture with Tree Top Investments Maldives, formally inaugurated its banking operations in the Maldives yesterday with the opening of its head office and the first branch in the archipelago's capital Malé by Maldivian President Abdulla Yameen Abdul Gayoom.
Bringing together the timetested expertise and strength of Sri Lanka's benchmark private bank, which holds a majority stake of 55 percent, and the deep local market knowledge of the Maldivian partner, which owns 45 percent of the joint venture, Commercial Bank of Maldives said it will follow a strategy of providing access to its services through the integration of modern technology and infrastructure to serve the growing consumer and business needs in the market.
It aims to be the most technologically advanced, innovative, customer-friendly and most sought-after financial services organisation in the Maldives. The joint venture is the third overseas banking operation of Commercial Bank of Ceylon, after Bangladesh, which the bank entered in 2003, and Myanmar, where the bank opened a representative office in June 2015. "We are truly delighted to be here," said Commercial Bank of Ceylon Managing Director/CEO Jegan Durairatnam, who led a team from the corporate management of the bank to the opening ceremony in Malé. "Our countries enjoy extremely close social and economic ties and our bank is well known to thousands of Maldivians. Many businesses in this beautiful country have already obtained off-shore loans from us and are among our most valued customers." Commercial Bank of Maldives will offer individuals and corporate entities in the Maldives an extensive range of financial services in three categories. Its investment products portfolio will include savings accounts, senior citizens accounts, children's saving accounts, power savings accounts, fixed deposits and treasury products. Commercial Bank of Maldives' lending products portfolio will encompass overdraft facilities, short-term loans (revolving and nonrevolving) term loans, personal loans, import loans and pre-shipment loans, the bank said. Its banking services will comprise of salary remittances package, premier banking services, online banking, mobile banking app, safe lockers, outward remittances, inward remittances and trade finance services including letters of credit and export bills purchase. Tree Top Investments, the Maldivian partner in the joint venture, was founded in May 2013 by a group of successful shareholders in the Maldives, each with years of experience and success stories from diverse business sectors.
The company's aim was to invest in diverse sectors such as hotels and resorts, financial services, food and beverage, construction, real estate, retail and wholesale, transportation, energy and engineering and healthcare utilising the extensive expertise of the partner shareholders to traverse the boundaries between, consolidate sectors and generate an admirable portfolio of investments and a robust business model. The only Sri Lankan bank to be ranked among the Top 1000 banks of the world for six years consecutively, Commercial Bank operates a network of 251 branches and 640 ATMs in Sri Lanka. Commercial Bank's first overseas operation was launched with the acquisition of the Bangladesh operations of Credit Agricole Indosuez (CAI). Today, the bank's operations in Bangladesh have grown to 18 outlets and have won numerous awards including the Financial Mirror - Robintex Business Award for outstanding performance, the Financial News Services (FNS) Business Award for the 'Best Performing Foreign Bank' in Bangladesh and the ICMAB, National Best Corporate Award.
The bank's second overseas operation offers banking and advisory services to Sri Lankan and Bangladeshi businesses wishing to enter Myanmar. Commercial Bank was the first Sri Lankan bank to be granted a licence by the Central Bank of Myanmar to operate a Representative Office in that country