---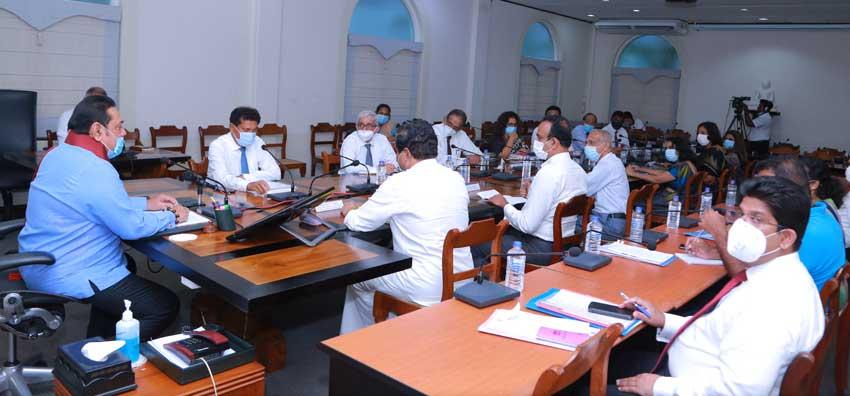 By Lahiru Pothmulla
The Central Bank of Sri Lanka (CBSL) should take the responsibility when financial institutions approved by it and under its supervision go into bankruptcy, Prime Minister Mahinda
Rajapaksa said.

Rajapaksa said this at a meeting held at Temple Trees yesterday to review the current situation of The Finance Company PLC (TFC), the Prime Minister's Office said.

He said the public confidence in financial institutions is being faltered and the government has to face embarrassment when the financial institutions under the CBSL continue to collapse and due to irregularities in these financial institutions.

"New laws should be enacted, if that's what it takes to take action on these financial frauds," he said.

At the meeting, Rajapaksa instructed the officials to expedite the process of paying back the depositors of TFC.
CBSL Deputy Governor H.A. Karunaratne said making of payments for 97 percent of depositors would commence from next Monday while the payments of the rest of the 3 percent would be made afterwards.

Deputy Governor Karunaratne said TFC was governed by an independent board of directors though it was under the supervision of the CBSL.

He also said that there is a possibility to hand over TFC to a new investor as well. The Monetary Board of the CBSL however cancelled the licence of TFC on May 22, due to serious erosion of liquidity.

Minister Ramesh Pathirana, who was also present at the meeting, said that a proper investigation should be launched over financial institutions, which are under the supervision of the CBSL, swindling the public.

Meanwhile, Minister Bandula Gunawardana pointed out that justice should be meted out to TFC depositors as well as to the depositors of other collapsed financial institutions.

Secretary to Prime Minister Gamini Senarath, Central Bank Governor Professor W.D. Lakshman, Finance Ministry Secretary S.R. Attygalle and a group of legal advisers participated in the discussion.