---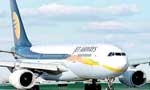 Jet Airways, effective November 5, 2014 enhanced it's connectivity to India by adding a second service from Colombo to Mumbai.Jet Airways flight 9W 251 which departs Colombo at 2135 hrs arrives in Mumbai at 0015 hrs and the return flight 9W 252, departs Mumbai at 1805 hrs and arrives into Colombo at 2035 hrs.

The introduction of this evening flight perfectly complements the current early morning flight from Colombo to Mumbai; enabling passengers travelling on the trunk route the ability to carry out a "same day return".


The second connection provides direct access to a large number of network destinations via its primary hub of Mumbai.The airline, as part of its hub carrier strategy, offers connections to key domestic destinations and international destinations in the Far East, Europe, United States, Canada and the Gulf region with direct and code share flights via Terminal 2 located at the Chhatrapati Shivaji International Airport in Mumbai. In line with its three year plan, Jet Airways has also moved to a uniform full service product; a single "Master Brand" across its network with the aim of providing its passengers with an enhanced and consistent product offering.

Jet Airways' hub at Mumbai continues to develop and plays an integral role serving as connecting points in the airlines expanding network. Thus, as Jet Airways expand its operations like the Airbus A330 service to Paris or the Boeing 737 flight to Ho Chi Minh, the airlines Indian hub in Mumbai will not only continue to form the largest and most significant part of the Jet Airways network. With increased infrastructural efficiencies resulting in newer airports and enhanced connectivity, the domestic traffic flows are expected to continue to augment international volumes from this hub in the future.