---
Direction on exchange control policy, land ownership by foreigners and expropriated assets is expected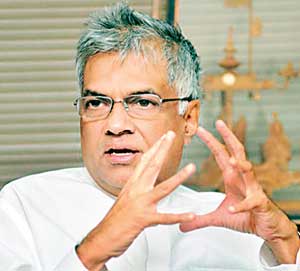 Prime Minister Ranil Wickremesinghe's special policy statement in Parliament today on the new government's medium-term economic framework is likely to deal with several important issues which could directly impact the country's businesses and financial sector.

Informed sources said Wickremesinghe is likely to spell out the new government's policy directions on exchange control liberalization and ownership of land by foreigners among many other policy matters.

During a recent press briefing Finance Minister Ravi Karunanayake said foreign investors in large projects would be able to buy land with less restrictions reverting equal to a situation that prevailed before 2012.

Board of Investments Chairman Upul Jayasuriya also recently said the country's land policy on foreigners should be corrected to bring in more foreign direct investments.

Liberalization of the country's exchange control policy was recently hinted at a press briefing by Minister Karunanayake when he announced a blanket amnesty, asking from those who had Swiss bank accounts to bring their funds into the country. He guaranteed that no questions would be asked from them.
Meanwhile, sources said Premier Wickremesinghe may also spell out the new government's stance on the assets expropriated by the previous government through a draconian law in 2012.