---
Talal Rafi has been nominated by the World Economic Forum as a Young Global Leader 2021.

The mission of the Forum of the Young Global Leaders is to create a dynamic global community of exceptional people with the courage, vision and influence to drive positive change in the world.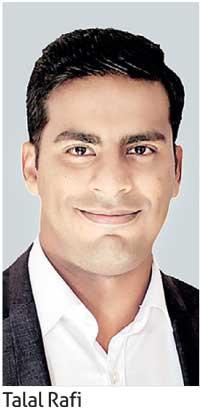 Referred to as 'The most exclusive private social network in the world', the Young Global Leaders Forum focuses on inspiring, connecting and transforming society for the better. Prominent Young Global Leaders of previous years include Larry Page, Ivanka Trump and Mark Zuckerberg.

Talal Rafi is a Sri Lankan entrepreneur and consultant who works across multiple fields in developing entrepreneurship.

As an industry expert at the Moratuwa University Entrepreneurship Center under the World Bank AHEAD project he supports the development of entrepreneurship ecosystems. He has worked as an entrepreneurship specialist for a USAID project. Talal is a member of the Forbes Business Council and a member of the National Agenda Committee for entrepreneurship ecosystem at the Ceylon Chamber of Commerce. He serves on the Board of Directors of the Global Entrepreneurship Network for Sri Lanka. Talal is currently working with Chatham House London with industry leaders from Goldman Sachs, World Bank, International Trade Centre, MasterCard and Ernst & Young on the topic 'Leveling the playing field for women entrepreneurs'. Chatham House briefing paper will include recommendations to the G7/G20 and the private sector.