---
Ajahn Brahm Society – Sri Lanka announced that Ven. Ajahn Brahm will be in Colombo early November, and has accepted the invitation to deliver two Dhamma talks.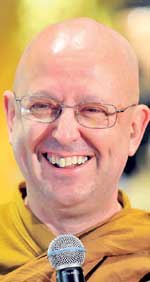 The first talk will be for the business community and professionals on November 6th (from 5.00 p.m. – 6.15 p.m.) at the Temple Trees auditorium.

The second will be for the general public on November 7th at the Temple Trees auditorium.

Both talks will be delivered in English, and interested parties can call the Ajahn Brahm Society hotline at 0777-666-886 to reserve a pass.