---
Industry stakeholders fear massive impact on production yields
By Shabiya Ali Ahlam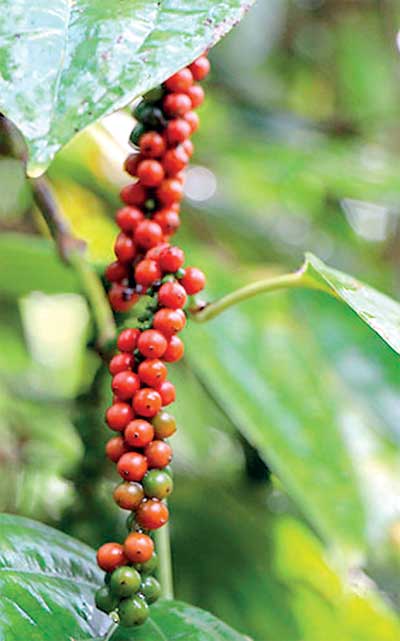 Sri Lanka's pepper industry stakeholders fear significantly lower production yields this year as an unknown disease is spreading across the country's pepper cultivations.
According to the industry stakeholders, the key symptom of the disease is the leaves turning yellow within a very short period of time.
The prevailing dry spell after a period of heavy showers has been identified a key reason for the disease to spread.
Pepper plantations in the Central Province are said to be the most affected.
According to Spices and Allied Products Traders' Association (SAPTA) former Chairman M.C.M. Zarook, the impact on the pepper vines have been observed in the last two weeks.
Although the Export Agriculture Department has been contacted for assistance in this regard, they have so far been unable to accurately identify the disease and its causes.
"The Export Agriculture Department is suggesting remedies and we are following them; but we are yet to see their outcome. They are trying their level best to assist us but they are not competent enough," said Zarook.
Doing only "guess work", Zarook said the department is taking "a trial and error" approach when recommending solutions.
"So far they have only assumed what the problem is. They have suggested that we follow some native home remedies but nothing specific has been firmly suggested by the authorities concerned."
The unexpected snag is said to gravely impact the smallholders and farm gardens that account for 90 percent of the total pepper production in Sri Lanka.
While outbreaks are common in pepper cultivation, just as in any other agricultural crop, only about 2 percent is generally affected. But for the first time, a disease has resulted in the wipe out of 80 percent of the crop, leaving the stakeholders at disarray.
"If we don't find the cause of this disease, I am afraid that the majority of the pepper vines will die off. That means, to come back to the same level it will take about five years."
"For the Central Province, June and July are the seasonal period. If the vines are already affected, we can't even dream of a season," cautioned Zarook, while pointing out that the impact will have massive negative implications for the country's exports.
After cinnamon, pepper is the second largest spice crop that is exported.
For the first three quarters of 2015, Sri Lanka's pepper production stood at 32,700 metric tonnes (MT). Full-year export figures are yet to be released.
However, according to industry sources, 2015 witnessed a bumper harvest, which generally occurs once in every four years.
Pepper exports from Sri Lanka in 2014 fell to 7,930 MT against the record 21,330 MT exported in 2013.
Black pepper prices weakened from Rs.1300 to around Rs.1150 per kilogramme by mid-2015.