---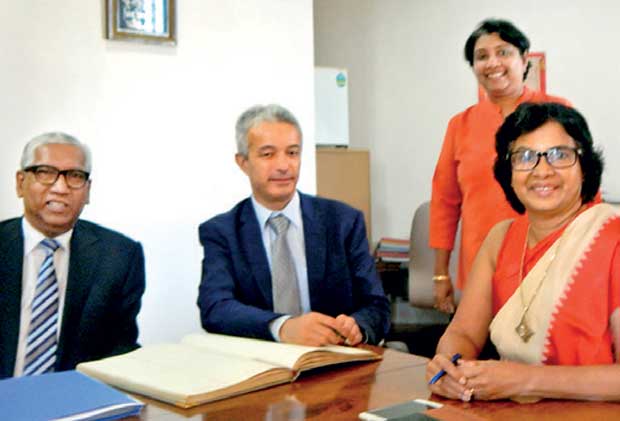 From left: Mukthar Marikkar, the Consul of Tunisia in Sri Lanka, Nejmeddine Lakhal, Lilakshini De Mel, Assistant Secretary General of the Chamber and Dhara Wijayatilake, CEO of the Ceylon Chamber
Tunisian envoy to Sri Lanka Nejmeddine Lakhal says commercial ties between Sri Lanka and Tunisia should be enhanced, as two-way trade between the two nations stands at a negligible level at present.
The envoy who is based in New Delhi made this comment when he visited the Ceylon Chamber of Commerce this week to discuss the way forward to enhance trade and investments between the two nations.
He met with Dhara Wijayatilake, CEO of the Ceylon Chamber of Commerce and Lilakshini De Mel, a Senior Assistant Secretary General of the Chamber, who is in-charge of Bilateral Business Councils.
"Trade exchange between the two nations is very low, we have to find ways to enhance it by diversifying trade between the two countries', Nejmeddine said during discussions with the Chamber.
Both parties agreed to find opportunities to organizing two-way business delegations and organize B2B meetings between business counterparts of both destinations.
The visiting ambassador from the North African country also said that Sri Lankan investors can explore the Free Trade Agreements, Tunisia has signed with neighboring countries and also tax free zones established in Tunisia to make investments.
Mukthar Marikkar, Consul of the Republic of Tunisia in Sri Lanka also accompanied Ambassador Nejmeddine Lakhal to the meeting.
The trade between Sri Lanka and Tunisia during the year 2016 stood around a mere US$ 2 million, with the trade balance in favor of Sri Lanka. Sri Lanka mainly exports items such as tea, spices, rubber and related articles to that country, while Tunisia's main exports to Sri Lanka are electrical machinery and equipments and parts.