---
By Chandeepa Wettasinghe
Ample space for distortions in national account estimates may exist due to shortcomings in conducting surveys, which requires constant vigilance, a leading statistician in South Asia said recently.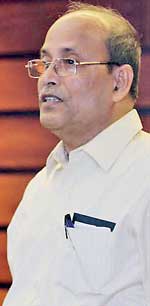 "In national surveys, you should concentrate on non-sampling areas more than on sampling areas, because in the sampling size, everything is tightly controlled. The non-sampling areas could be out of control," Indian Statistical Unit Social Sciences Division Economic Research Unit Professor-in-Charge Prof. Manoranjan Pal said.
While delivering a public lecture at the Central Bank of Sri Lanka last week, he said even the information from samples taken for national accounting could be highly misleading if biases were involved when respondents provided or failed to provide information.
"The number of people (who are) refusing to answer—if they are from a specific group—you may miss something. If the high income group says they don't want to disclose their income, the information gets biased," he said.
In Sri Lanka, despite a national per capita income of around US$ 3,800, the capital accumulated among a small portion of the population has become evident with the rapidly rising real estate pricing within Colombo, with finance professionals noting that black money partly explains the situation.
Prof. Pal noted that politicians may also influence national accounting by attempting to skew surveys in a specific direction.
"There's a tendency of respondents agreement with a question without thinking of the question. So if there are two sets of questions, with one asking something and the other asking the complete opposite, you get completely different answers. And it depends on which set of questions the government chooses," he said.
Governments may also be involved in distorting economic data post-collection, since in Sri Lanka the previous regime allegedly sacked a Census and Statistics Division Director for not complying with an order to 'massage' economic data to suit the government's political rhetoric.
The current government too, while in the Opposition, had accused the past regime of distorting data, although, it later endorsed the past data by publishing them in subsequent Treasury, Central Bank and Census and Statistics Department reports.
Meanwhile, Prof. Pal said that respondents may also change their answers depending on the gender of the questioner.
"You shouldn't also tell the objective of the survey. When you're trying to find the poor, then everyone becomes poor," Prof. Pal added.