---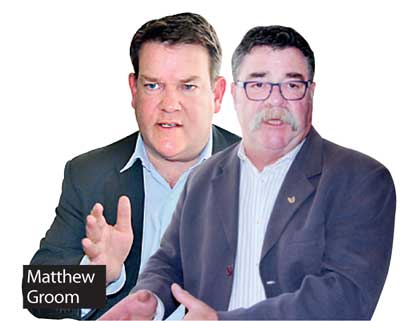 By Shabiya Ali Ahlam
In search of opportunities to plug into the Asian markets, top official of the Tasmanian government yesterday said they are actively exploring avenues to reap the benefits of Sri Lanka's strategic location.

Tasmanian government's Minister for State Growth, Minister for Energy and Minister for Environment, Parks and Heritage, Matthew Groom, speaking to Mirror Business in an exclusive interview just hours after his arrival in Colombo said the Australian state is "highly keen and focused" on reaping the benefits of Sri Lanka's fast-paced growth. "You (Sri Lanka) are well placed due to the strategic positioning and we are keen on leveraging off of that. We plan of leveraging on this element for Tasmania's produce and wine which is of premium quality," said Groom who is in Sri Lanka with a delegation that is headed by Premier Will Hodgman.
The team includes Tasmanian IPL player James Faulkner and ICC Referee David Boon.
The delegation marks Tasmania's first official visit as a state to Sri Lanka.

Groom shared that his government was keen on including Sri Lanka in its South Asia mission, which aims at increasing awareness on the state island's potential. The delegation had visited Indonesia, Singapore, and India prior to the stopover in Sri Lanka.

Justifying Sri Lanka's inclusion in the mission despite it being a small market, the visiting minister noted that from Tasmia's perspective, the government observed "a lot of prospects for closer ties and cooperation".

"Sri Lanka is a small market but we wouldn't underestimate it. The tourism sector is booming and so is the construction of hotels. So the key focus of ours would be to cater to the premium tourism segment," he stated.

While lack of awareness on Sri Lanka on the global stage has been pointed out time and again by businesses, Groom observed otherwise. He noted the nation is well known amongst Tasmanian businesses, who are on the lookout for prospects with local entities.
"I would describe Sri Lanka as extremely well known and Cricket played a major role in that regard. It is a very attractive country and it is well acknowledged as a country that is going through resurgence with a lot of optimisms and confidence. In that sense we are a lot similar," shared Groom. During the visiting delegation's two-day visit, the team is to meet ministers and senior government officials across diverse departments. Key areas of focus for collaboration would be in premium food and beverages, advanced manufacturing and defense, agriculture and aquaculture, and renewable energy and water management.
Pic by Damith Wickramasinghe