---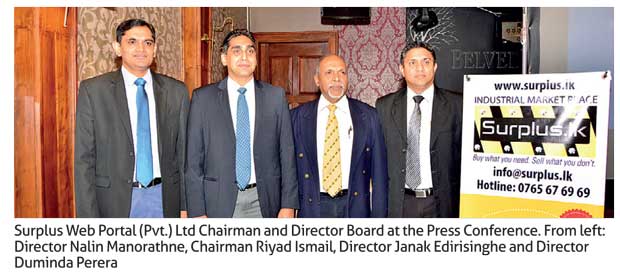 Surplus.lk, Sri Lanka's newest online platform dedicated to the needs of buyers and sellers in the engineering sector was recently launched.

It aims to address the escalating and crucial need to trade in industrial and construction surplus items. Surplus.lk has been launched as an innovative online marketplace, accessible in all three languages.

It provides an ideal solution for individuals and corporates to transact and benefit from selling, buying or renting construction and industrial inventory and services in one unified website, where they can display any number of their products/services for any length of time in their own designated webpage. This service is offered absolutely free of charge.

Arguably, there has been no easy option for individuals, retailers and even larger corporates to dispose of their excess construction or industrial material and equipment. Customarily they would hang onto the excess for long periods, until some use presents itself or have to rely on a middleman like a scrap merchant to dispose such items at scrap value.

Surplus.lk aims to provide sellers an opportunity to eliminate their surplus inventory and similarly offer potential buyers the opportunity of sourcing of surplus inventory and services at a fraction of the original cost.

For buyers too, both large and small contractors, corporates and even the general public, the site provides a convenient platform on a wide range of products and services and a variety of information on them.

The site thus serves as the perfect platform for bringing buyers and sellers together and facilitating the movement of surplus construction and industrial goods and services and ultimately reducing the impact to the environment by reusing materials.

Surplus.lk also provides a rating application where buyers can rate the sellers and service providers based on the level of service received. This would help improve the overall service levels of sellers and service providers.

The site is also ideal for those seeking the services of tradesmen, professionals, service providers and skilled workers. Vendors supplying professional services for the construction industry for example, engineers, architects or surveyors can list their services free of charge for customers seeking to recruit or obtain their skills. For skilled workers too such as plumbers, masons or labourers.
With no registration fee or other charges whatsoever required including commission, lead costs or listing fees, sellers can quickly upload their surplus inventory to the system for buyers to purchase. Not only do sellers deal directly with each potential customer/buyer, they also turn their excess equipment or stock into profit. Buyers are also guaranteed of no hidden costs when sourcing their requirements.

Covering the entire breadth of the engineering sector, the platform offers categories such as Services and Resources, Building Material, Building Products, Industrial, Tools and Equipment, Rental and many more, Surplus.lk provides sellers with an opportunity to turn their clutter into cash.

A vast range of building materials and building products for example, bricks, welding rods, ready mix and even excavators and forklifts in the industrial category are listed on the site.

The site can also be used to dispose of excess materials such as sand, soil or gravel. Sellers can also list their goods, with photos and descriptions according to their preference, i.e. as individuals or retailers and can benefit from having their own company or individual profile page. Sellers in turn can contact these buyers when required.

"This is a strong signal to the entire industry whether large or small players that innovation in the management and monetisation of inventory is evolving. Surplus.lk as a B2B or B2C portal is designed to simplify the way buyers and sellers with excess supply connect more quickly, dispose their stock and turn surplus stock into profit," mentioned, Surplus Web Portal (Pvt.) Ltd Chairman Riyad Ismail.
For individuals or retailers unsure of the process, a Surplus.lk staffer is available to guide them through the registration and listing process. This will enable more individuals to have access to the network of surplus inventory.

The platform was successfully unveiled at the recently concluded 'Construct Exhibition 2017' and generated considerable interest from all those who registered.