---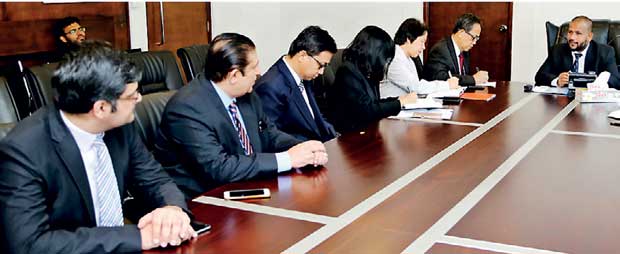 Acting High Commissioner of Pakistan Dr. Sarfraz Ahmad Khan Sipra (second from left), Ambassador Designate of Thailand to Sri Lanka Chulamanee Chartsuwan (fifth from left), and Ambassador of Indonesia to Sri Lanka Gusti Ngurah Ardiyasa (sixth from left) in discussion with Commerce
Rishad Bathiudeen
Sri Lanka has picked three countries to supply 200,000 MT rice immediately to meet the shortfall in its domestic market.
A four-member team of Lankan officials left for Pakistan yesterday to select rice varieties for the domestic rice market. The team will head to Myanmar from Islamabad to test Burmese rice varieties for the Lankan market on July 12.
"Yala season's failure and the floods created this rice shortage. We have picked Myanmar, Pakistan and India and the country that did not get in was Indonesia," said Industry and Commerce Minister Rishad Bathiudeen, during his progress review with his officials this week and added: "The officials of the team, after checking both Pakistani and Myanmar markets, will decide whether to choose Pakistan or Myanmar (or both) to purchase the 100,000 MT rice. Whether it is finally supplied by one or both countries, the purchase shall be at government-to-government levels."
The team of officials that left for Pakistan was led by Secretary of Ministry of Industry and Commerce Chinthana Lokuhetti, and two officials from the Finance Ministry and a food technologist from ITI.
More than 50 percent of this 100,000 MT rice would be par-boiled (Nadu) variety with the rest in white raw, and samba.
Sri Lanka is also purchasing another 100,000 MT rice from India immediately. This is not at Government to Government levels but from the Indian private sector (Government to private sector). Tenders from Indian private suppliers are being received and the winning Indian supplier is expected to be picked by July 17. Meanwhile, Sri Lanka has also commenced Government to Government rice purchase talks with Thailand's Ministry of Commerce this week. These talks are conducted to procure 'stand-by' buffer rice stocks for any future emergencies and not for immediate use (as done with India, Pakistan and Myanmar). A Sri Lankan team of officials is scheduled to fly to Bangkok next week to meet Thai officials and decide on varieties, possibly around 100,000 MT of rice which will include par-boiled (Nadu), white raw, and samba.
On June 22nd, joined by Secretary of Ministry of Industry and Commerce Chinthana Lokuhetti and Director General of Finance Ministry PMB Atapattu, Minister Bathiudeen met Ambassador Designate of Thailand to Sri Lanka Chulamanee Chartsuwan, Ambassador of Indonesia to Sri Lanka Gusti Ngurah Ardiyasa and Acting High Commissioner of Pakistan Dr. Sarfraz Ahmad Khan Sipra at the Ministry of Industry and Commerce to call for government to government rice supplies to Sri Lanka. All the ambassadors present pledged immediate support to Minister Bathiudeen and President Maithripala Sirisena's efforts to procure the rice tranche.
The Cooperative Wholesale Establishment (CWE) under the Commerce Ministry has been roped in for the local distribution work of imported rice.