---
The Austrian government will step up its assistance to Sri Lanka, by providing EUR 19.35 million (Rs 3, 546 million) interest free soft loan to upgrade the Katunayaka Engineering Technology Institute and to obtain 100 ambulances for government hospitals in the country.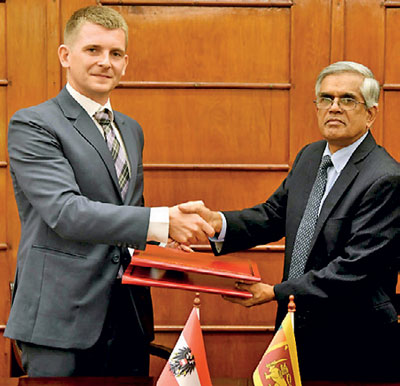 This loan facility provided through Raiffeisen Bank of Austria will set aside EUR 9.85 million to procure 100 ambulance cars for government hospitals and another EUR 9.5 million for enhancing and upgrading of Institute Of Engineering Technology, Katunayake.

The ambulance car project provides the 100 ambulances to selected hospitals with some of the necessary lifesaving equipment.

Supplying of ambulances to required hospitals is vital to provide emergency healthcare to patients to prevent deaths, reduce injuries/disabilities and transfer the patient efficiency and safely to the nearest hospital with required healthcare facilities.

The people in the entire country will benefit from this project through enhanced access to quality health care facilities.

The project on improving the facilities at the Institute of Engineering Technology, Katunayake, will upgrade the existing workshops and provide the latest equipment to facilitate in increasing the student intake of the institute up to 500 by 2020.

Facilities of the Institute of Engineering Technology, Katunayake, have not been improved with the increased intake of the students in the past several years and this has resulted in a huge problem of insufficient facilities such as class room space, equipment and required academic staff. This project will contribute to meet the huge unmet demand for middle level technicians.

Secretary to the Ministry of Finance and Mass Media, Dr. R. H. S. Samaratunge signed the credit agreement of the ambulance car project yesterday on behalf of the Government of Sri Lanka in the presence of the Deputy Commercial Counsellor of the Austrian Embassy Siegfried Weidlich.

The credit agreement of the enhancing and upgrading of Institute of Engineering Technology (IET), Katunayake was signed on 2nd November.