---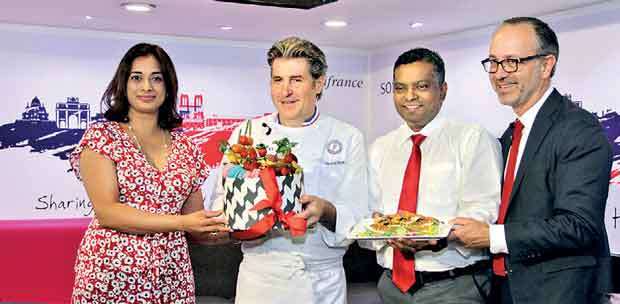 From left : Softlogic Holdings Group Director Marketing-Desiree Karunaratne, Chef Michel Roth, Softlogic Restaurants Director / CEO Suresh Jayawardana, Delifrance Franchise international SA Chief Marketing and Operations Officer Fabrice Herlax
Pic by Pradeep Dilrukshana
By Nishel Fernando
Softlogic Holdings PLC plans to open two more new Délifrance outlets including a bakery by mid next year with the aim to popularise the brand in the Sri Lankan market, contemplating future expansions across the island.

Speaking to Mirror Business on the sidelines of a media gathering organised to share the 'French way of life' among local customers, Delifrance Franchise international SA, Chief Marketing and Operations Officer, Fabrice Herlax and the Authorised Franchisee for Delifrance in Sri Lanka, Softlogic Restaurants (Pvt.) Ltd, CEO Suresh Jayawardana shared the future vision of Délifrance in Sri Lanka.

Jayawardana said that two more new Délifrance outlets will be added to Colombo by mid next year, which includes a fully-fledged bakery.

Softlogic also eyes setting up outlets at several upcoming shopping malls in the country to familiarise the brand among Sri Lankans.

He noted that Softlogic has a vision to popularise the Délifrance brand across Sri Lanka and said Colombo shopping malls would be a good platform prior to expanding to other major cities in Sri Lanka and major suburbs of Colombo.

"There will be new outlets in the coming months in Colombo, and we will start rolling out our next generation stores in order to share with our guests an even more enticing food and drink offer," Herlax said.

He further revealed that two existing outlets in Colombo will be refurbished under the newly refreshed concept to attract the younger and modern consumer.
Jayawardana stressed that Délifrance product offering is priced competitively and said Softlogic is encouraged by the growth figures of Délifrance existing outlets for expansion.

Softlogic Holdings PLC, Director-Marketing, Desiree Karunaratne noted that with growing urbanisation, French cuisine and the café culture has become a strong trend in the urban metropolis of Colombo and affirmed that Delifrance is well positioned to capitalise on this market potential.

Two-star Michelin Chef, Michel Roth who was in Sri Lanka to share the 'French way of life' among local customers said: "I'm delighted to bring my signature style to Délifrance Sri Lanka. We share the same passion; pairing French know-how with local inspiration.

Today Delifrance has over 300 shops across Asia and Europe. Our ambition is to share the French Art de Vivre with all our customers."

Chef Roth who has been hailed as a 'boundless source of inspiration for Délifrance', celebrates a 5-year relationship with Délifrance, Paris.
He demonstrated several unique combinations of French recipes adapted to local taste to the media at the occasion including Pain Surprise and the Michel Roth-Croissant Paris-Colombo.

Softlogic Holdings PLC through its fully owned subsidiary, Softlogic Restaurants (Pvt.) Ltd entered into a master franchise agreement last May with France's Delifrance S.A., to develop, open and operate Delifrance outlets in Sri Lanka with its trademarks.

Delifrance has been recognised as a global leader in French bakery-café-restaurant chains since 1984. It has been founded in Paris in 1919, and owned by the French farmers' agricultural cooperative Vivescia.

Delifrance manages the entire value chain from the selection of wheat varieties, right up to the consumer's plate. Delifrance Franchise International SA, a sister company of Delifrance SA, has 340 outlets in 11 countries.