---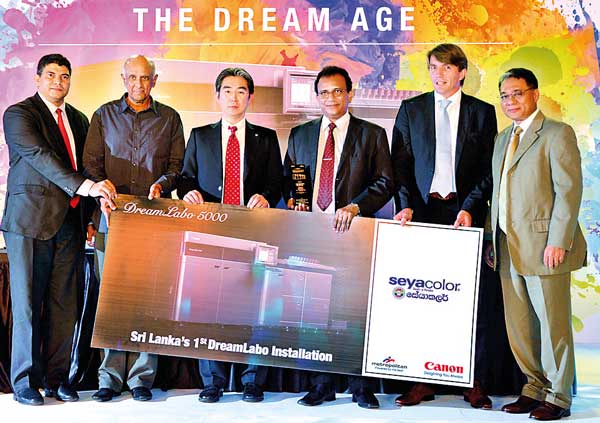 Sri Lanka's first HD quality, 7 colour professional digital photo album printer, Canon Dream Labo 5000 was launched recently by renowned printing lab Seyacolor together with Canon and Metropolitan. The Canon DreamLabo has a single side photo print speed of 2330 prints per hours and a double side print speed of 1000 prints per hour in variety of print qualities from lustre, gloss, satin, metallic and many more.
"I am very proud to say that we have again strengthened our market by launching the world's best photofinishing system 'Canon Dream Labo 5000' for the first time in Sri Lanka. I am fully confident that Seyacolor has the opportunity to take the local photo printing Industry to a new era," said Seyacolor Labs Director Athula P. Dias. S e y a c o l o r / S a r a s a v i C o l o u r Laboratory (Pvt.) Lt. is a leading photofinishing laboratory in Sri Lanka, trusted and respected by Sri Lanka's top professional photographers.
A subsidiary of Sarasavi Group of Companies, Seya Colour is one of the pioneer companies which commenced colour processing and printing for the first time in Sri Lanka a few decades ago in Nugegoda. "This milestone installation marks a new beginning of high-quality photo printing as the Canon Dream Labo 5000 is undoubtedly far ahead in printing and processing technology.
As the sole authorized distributor for Canon, Metropolitan is proud to be a part of this landmark achievement in the digital photo printing industry," said Metropolitan Office (Pvt.) Ltd Managing Director Ivor Maharoof. The DreamLabo 5000 consists of the most advanced double sided high definition photo printing system and this is the highest investment ever made in the photofinishing industry in Sri Lanka. Photographers can get HD photo books or photo prints either colour or black and white that are guaranteed for generations.
Photographers can avoid all colour deprivation issues they faced earlier as DreamLabo directly prints RGB colour format. (sRGB and Adobe RGB) "This landmark installation of Canon Dream Labo 5000 wil l redefine the limits of photo printing in Sri Lanka," said Metropolitan Office (Pvt.) Ltd Head of Production and Graphic Art Kevin La-Faber. Metropolitan is the sole distributor for Canon in Sri Lanka and has been a pioneer photography and printing technology provider in the country. Over the years, the company has supported the development of the photography and printing industries in numerous ways including skills enhancement, overseas exposure, technical knowledge enhancement and output quality improvement.