---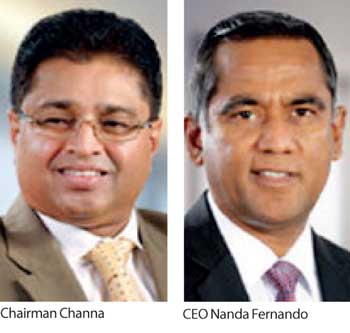 Stronger growth in new loans and better margin management amid challenging macro-economic conditions helped Sampath Bank PLC report some robust performance for the quarter ended December 31, 2017, the interim financial accounts released to the Colombo bourse showed.
Sampath Bank, the third largest private lender by assets, reported earnings of Rs.19.95 a share or Rs.3.90 billion in earnings for the December quarter (4Q17), a 52.5 percent increase from a year ago.

The bank, which revolutionized the domestic digital banking space through its cutting-edge digital offerings, made this bottom line performance amid a 23 percent year-on-year (YoY) growth in net interest income and 3.91 percent net interest margin maintained for the year.
The bank for the quarter under review recorded a net interest income of Rs.8.6 billion.

Meanwhile, the bank for the full year reported earnings of Rs.64.91 a share or Rs.12.68 billion in earnings, up 34 percent YoY.
This is amid a significant increase in the provisions for possible bad loans— for both selected individual customers and for the loan portfolio in general (general provisions).

The net interest income for the period jumped 27 percent YoY to Rs.30.3 billion.

Meanwhile, the bank with assets of Rs.795 billion, provided new loans worth Rs.106 billion, recording an increase of 23 percent. This is about 9 percent higher than the industry credit growth of around 14.5 percent.

The bank on a standalone basis had a loan book of Rs.572 billion.

The deposits grew by Rs.116 billion or 23 percent to Rs.626 billion.
The bank in December 2017 announced Rs.12.5 billion rights issue and Rs.7.5 billion convertible debenture issue to beef up its capital in line with the new BASEL III minimum levels coming into full effect from 2019 January. By December 31, 2017, the bank had a Common Equity Tier I and a Tier I capital adequacy ratio of 10.26 percent while the Tier II capital ratio stood at 14.41 percent.

By January 1, 2019, all three ratios under BASEL III minimum standards should go up to 8.50 percent, 10.0 percent and 14.0 percent respectively. As at December 31, 2017, Dhammika Perera-controlled Vallibel One PLC held 14.95 percent stake in the bank while the Employees' Provident Fund held another 9.97 percent stake being the third largest shareholder.