---
Sri Lanka Ports Authority (SLPA) has made an operating profit of Rs.11 billion for the year 2016, up 83 percent from a year ago, on the back of revenue of Rs.44 billion, a Ports and Shipping Ministry statement said.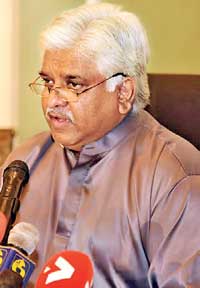 SLPA has also been able to cut its operational expenses during the year, as it incurred only Rs.20.2 billion in operating expenses compared to Rs.22.6 billion in 2015.
Ports and Shipping Minister Arjuna Ranatunga was quoted in the statement as saying that the SLPA achieved this victorious position despite facing many challenges.
According to Ranatunga, SLPA-run Jaya Container Terminal (JCT) could not provide services to 23 vessels deeper than 14 metres and 271 vessels longer than 350 metres in 2016 as JCT only has a depth of 14.25 meters.
"SLPA lost 589,553 containers because of this reason. I should say we earn this profit under such difficult conditions," Ranatunga was quoted as saying.
He further said the SLPA had to pay Rs.7.1 billion as the total debt and interest on the Hambantota port in 2016. The total of debt and interest paid by the SLPA in 2016 stood at Rs.16.7 billion.
---
H'tota port deal with China to be revamped
ECONOMYNEXT: Sri Lanka's plan to bring a Chinese state firm as an investor to Hambantota Port will be revamped to bring it in line with the country's existing law, Ports and Shipping Minister Arjuna Ranatunga said.
Sri Lanka's Trade and Investment Ministry spearheaded a plan to incorporate Hambantota Port as a separate company with a 99-year lease and sell 80 percent of it to China's CM Port Holdings, instead of following the international practice of leasing land for terminals and facilities like dry docks. Minister Ranatunga and Sri Lanka Ports Authority had raised objections to the plan amid wider public protests, while an opposition legislator had also gone to court over the proposed deal.
Opposition legislators had also alleged corruption on the proposed deal, which has been denied by the government.
A ministerial committee including Ranatunga was appointed to re-negotiate with the Chinese firm before inking the final deal.
"We are now happier with the way negotiations are going, though not 100 percent happy," Ranatunga told reporters in Colombo.
Asked whether individual sections of the port could not be leased to China, he said that was the direction he wanted to see negotiations move.
Selling 80 percent of a corporatized port would require changes to the law governing Sri Lanka Ports Authority.
Ranatunga said the Act was written to protect the interests of the country and Ports Authority and any changes should be carefully considered and it would take a long time.
Ranatunga said he was awaiting the views of the country's Attorney General to the proposed agreement.
The SLPA had paid Rs.7.1 billion in interest and capital repayments to China on loans taken to build Hambantota port, he said.
Sri Lanka had already leased a terminal in Colombo Port to CM Ports, and another private company which were paying annual fees to boost profits of the port.