---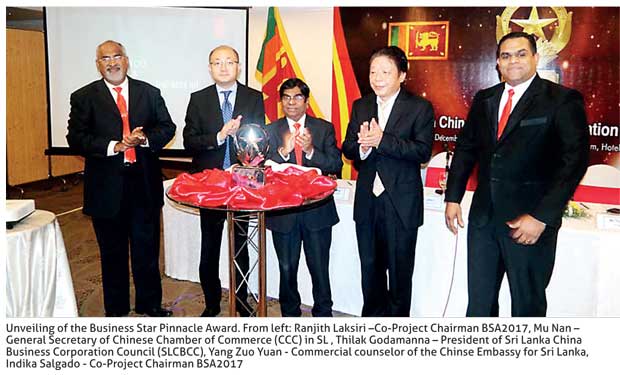 The Sri Lanka China Business Cooperation Council (SLCBCC) announced the launch of SLCBCC Business Star Awards 2017, which will be the seventh in the series. The Awards presentation will take place on December 4th at Galadari Hotel, Colombo.

SLCBCC established in May 1994 has conducted several productive events throughout its 23 years of existence towards promoting and strengthening the bilateral business partnerships between Sri Lanka and China.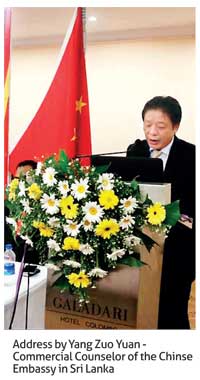 Events of national importance to both countries such as the commemoration of the Golden Jubilee of the Sri Lanka – China Rubber – Rice Pact in 2002 and the golden jubilee of the of the establishment of Sri Lanka – China diplomatic relations in 2007 were two significant events organized and conducted by the council.

With the primary objective of promoting and strengthening the bilateral trade and investments between Sri Lanka and China, SLCBCC is continuously engages itself in several other useful and regular activities such as, organizing business delegations to and from China, facilitating visiting trade fairs and exhibitions in China, promoting and facilitating Chinese trade exhibitions in Sri Lanka and conducting business development seminars and workshops.

SLCBCC also organizes and conducts Chinese language classes and provide advanced training facilities for Sri Lankan entrepreneurs in China which allows consistent transfer of technology to its stakeholders.

The SLCBCC Business Star Awards is yet another progressive step taken to motivate entrepreneurs doing business with China and to recognize their significant achievements.

The objective is to encourage and stimulate best business practices for achievement of highest productivity and competitiveness and to provide recognition to businesses that are making continuous efforts to improve management and operational practices. Hence it is a competition specially designed to evaluate theachievements of the business entities not only by evaluating their volume of business, but by taking in to consideration the quality of their performances too.

The SLCBCC Business Star Awards 2017 kicked-off at a launch ceremony held at Galadari on 13th October which announced the event to its stakeholders. The application closing date is 15th November for which applications could be obtained from SLCBCC OR from its website www. http://slcbcc.com or calling the council on 0773 – 024 512.