---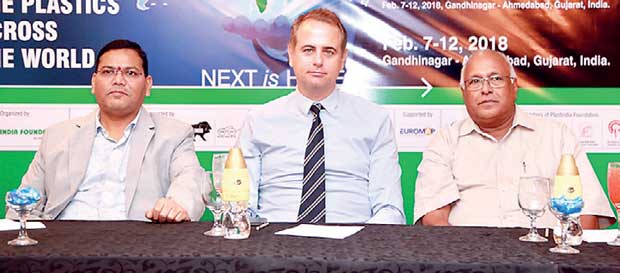 From left: Sri Lanka and Maldives Market Chairperson Anil Reddy, Plastics and Rubber Institute of Sri Lanka President Koenraas Pringiers, Plastindia Foundation International Marketing Vietnam and Myanmar Chairperson B. Swaminathan
By Zahara Zuhair
Plastindia Foundation of India invited Sri Lanka's plastic industry players to take part in the largest plastic exhibition, to meet new plastic equipment suppliers and manufacturers.

Named, 'Plastindia 2018', it is set to take place from February 7th - 12th at Gandhinagar - Ahamedabad, Gujarat, India next year.

Talking at a preview meeting in Colombo, the organizers encouraged locals to join the event and refresh their contacts.

Sri Lanka and Maldives Market Chairperson Anil Reddy said that the event will showcase two distinct and critical facts; the future of the plastic industry and the future of humankind itself.

"The 10th edition of the exhibition represents the very best of this empowerment of man's very growth through the unceasing efforts of the plastic community," he said.

The international plastic exhibition held for the 10th consecutive year, will spread across 125,000 square meters of total exhibition area with 2,000 exhibitors around the world, and 600 overseas exhibitors from 40 countries and in total 200,000 visitors from all over the world on a single platform.
The organisers said that anyone can register online through their website and the closing date will be 15th of August. It was noted that the exhibitors offer free airfare and accommodation to 50 plus visitors.

The event will feature growth segments such as automobiles, healthcare, packaging, infrastructure, agriculture, telecom, new and renewable energy and the emerging segments like plastic composites, sports, 3D printing.

Concurrent to the main event, they will have the 10th conference, hosting the world leaders in plastics on one platform sharing best practices, expertise, experience and knowledge. Then the 5th edition of Proplast, a platform that showcases India's growing plastic processing capabilities to the entire world.
Also the 8th Plasticon awards will recognise and honour the iconic innovators excelling in their performances and thus contributing to the growth of industry.

Among the key highlights of the event will be the presence of overseas business visitor delegations from Russia, Europe, America, Australia for the 'Meet 2 Trade' the reverse buyer seller meet pavilion and the launch of a mobile App for visitor registration and for updates on the progress of Plastindia 2018.

Plastindia Foundation is the apex body of major associations, organizations, and institutions connected with plastics, having common objectives of promoting, assisting and developing the plastic industry.