---
Senior banker Aravinda Perera has been appointed to the director board of Pan Asia Banking Corporation PLC with effect from August 3, 2017 in the capacity of Non Executive Director, the bank informed the Colombo bourse yesterday.

Perera's appointment has been approved by the Director, Bank Supervision Department of the Central Bank.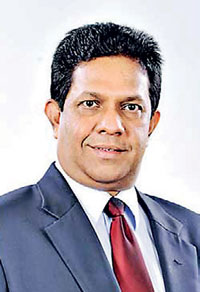 At the time of his appointment Perera did not hold any shares of Pan Asia Bank.

Perera counts over 30 years in the banking sector and functioned as the Managing Director of Samapth Bank PLC from January 1, 2012 to until his retirement in September 2016.
He is the Chairman of Siyapatha Finance and is a Director of SC Securities (Pvt.) Ltd, Lanka Bangla Finance Ltd in Bangladesh, Colombo Stock Exchange, Hayleys PLC, Hayleys Industrial Solutions (Pvt.) Ltd., Fentons Ltd. and Hayleys Advantis Ltd.

He is a former Director of Lanka Financial Services Bureau, Credit Information Bureau of Sri Lanka and LankaClear (Pvt.) Ltd.

He is also a former Governing Board Member of the Institute of Bankers of Sri Lanka and Past President of Association of Professional Bankers, Sri Lanka.

Perera was the Co-chair of national Agenda Committee on Finance and Capital of the Ceylon Chamber of Commerce and member of National Payment Council.

He is also a Member of the Institute of Engineers (Sri Lanka) and a Chartered Engineer. He is a Fellow Member of the Chartered Institute of Management Accountants (UK) (FCMA) and a Fellow of the Institute of Bankers, Sri Lanka.

He holds an MBA from the Post Graduate Institute of Management.

In honour of his contribution to the banking industry in Sri Lanka, Perera was presented with the CEO Leadership Achievement Award 2016 by the Asian Banker and was the recipient of the prestigious Platinum Honours – 2014 Award conferred by the Postgraduate Institute of Management Alumni (PIMA) of the University of Sri Jayawardenepura.

He was also honoured with the "Award for the Outstanding Contribution to the Banking Industry-2015" by the Association of Professional Bankers.