---
Business personality, Dinesh Weerakkody will release his sixth book titled 'Ranil Wickremesinghe: A Political Biography' on April 04 at the BMICH at 5.30 pm , in the presence of the President Maithripala Sirisena, Prime Minister Ranil Wickremesinghe and Speaker of the House Karu Jayasuriya.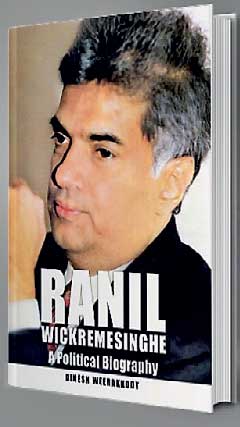 A compelling and eloquent speaker and award-winning author Dr. Shashi Tharoor, a former UN Under-Secretary General, India's nominee for the UN top job and a former Indian Minister of State for Human Resource Development and Minister of State for External Affairs, currently the Chairman of the Parliamentary Standing Committee on External Affairs, will deliver the keynote address at the biography launch.
Ranil Wickremesinghe, born March 24, 1949, has been the Prime Minister of Sri Lanka four times, equalling Prime Minister Dudley Senanayake's record. He is the longest serving Leader of the United National Party, since 1994, and an elected Member of Parliament for the Colombo District since 1977.
The author says, "Wickremesinghe unlike many of his contemporaries, and those who have followed, has believed strongly in the strength of the local education system to enter the University of Colombo for his degree rather than to a foreign university".
The book talks of Ranil's ancestry and his rise, his vision for a new Sri Lanka, the policy options available and the big difference between connecting with voters and delivery.
The author further says the world is like a chessboard and Sri Lanka needs to manage the networks strategically for its economic benefit.
The book is dedicated to late Ven Sobitha Thera and his generation of locally rooted social and intellectual leaders who have shared a common set of universal values. The profits of the sale of the book will be donated to the national kidney foundation.