---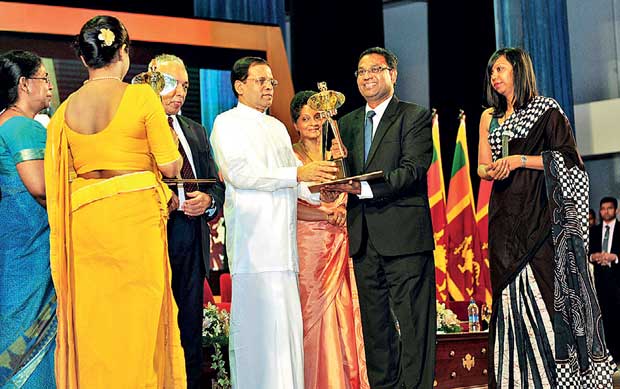 Assistant Vice President Corporate Affairs and Communications Bandula Egodage and Export Manager Lakshika Weeramundage receiving the award from President Maithripala Sirisena
Nestlé continued its winning streak at the prestigious Presidential Export Awards this month, bagging two special awards for 'Best Multinational Company (MNC) engaged in Exports' for both 2014 and 2015.
The esteemed award was presented by President Maithripala Sirisena, in recognition of the company's contribution towards Sri Lanka's export sector.
Nestlé Lanka Managing Director Shivani Hegde said, "We are honoured to accept this award in recognition of our success in exporting Sri Lankan coconut milk powder. We are proud to be one of the few multinationals in Sri Lanka today that has been able to market a truly Sri Lankan product to the world and leverage it to become a widely acclaimed global favourite. We have also enhanced the lives of people throughout our value chain, helping local suppliers improve their quality standards and empowering farmers to grow crops that benefit them."
Nestlé's coconut milk powder is one of Sri Lanka's largest value-added products in the coconut category and one of the world's largest export products. The company has been presented with many awards by the Export Development Board and National Chamber of Exports for its contribution to Sri Lanka's export industry, sharing knowledge and technical expertise with Sri Lankan coconut suppliers and sustaining the livelihood of well over 5,000 coconut farming families.
Using fresh, high-quality coconuts and manufactured only at the company's Kurunegala factory, Nestlé's Maggi coconut milk powder is directly exported to over 60 countries in the world, supplying Nestlé and other companies worldwide.
Nestlé's contribution to the local coconut industry in 2015, as payment for procuring fresh coconuts for its product, was Rs.2.6 billion.
"The Presidential Export Awards is the highest form of recognition given to exporters in Sri Lanka. As the only manufacturer of coconut milk powder in the Nestlé world, we're proud to be recognised for our consistent performance and contribution year on year," said Nestlé Lanka Exports Manager Lakshika Weeramundage.
The Presidential Export Awards is a highly anticipated event held every year, where the president recognises and awards companies that have made a significant contribution to the local exports sector at a significant awards ceremony. Previous awards won by the company include 'Best Exporter of the Coconut & Coconut Based Product Sector' in 2010 and 2013 and 'Best Exporter of the Food & Other Beverages Product Sector' in 2011.