---
Tea output to reach minimum 320 mn kg as weather conditions improve
Special committee on Iran payment issues to meet next week for first time
Ceylon Tea to sponsor national netball team at World Netball Championship 2019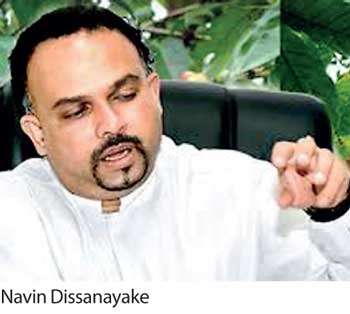 Plantation Industries Minister Navin Dissanayake yesterday expressed confidence on reaching minimum of 320 million kilos in tea output this year, meeting industry forecasts despite adverse weather and volatile external market conditions. "Generally, this time of the year tea output drops, also the weather conditions have impacted the output" Dissanayake told a press briefing held at the Sri Lanka Tea Board (SLTB), yesterday.

"SLTB Chairman informed me that the weather conditions are improving, output is also increasing and the prices are also stabilising."
The tea output declined 14 percent year-on-year (YoY) in August, dragging down the tea output during first eight months by 1.5 percent YoY.

Speaking to Mirror Business, SLTB Chairman Lucille Wijewardena said that the shifting patterns of temperature destroyed about 30 percent of the growth in tea output during the last few months.

However, he noted that as the rains have commenced and the temperature has returned back to normal, the tea output would start increasing from end of this month or next month.

Meanwhile, Dissanayake noted that a special committee has been appointed by the Cabinet to resolve the payment issues with Iran would meet next week for the first time.

Ceylon Tea prices have been adversely impacted recently as the two key markets of Ceylon Tea are in crisis—Iran and Turkey.

Due to economic sanctions imposed on Iran by the USA, Sri Lanka has been facing payment issues while the Turkish currency deprecation has significantly reduced its purchasing power.

"We are trying to increase our market share in China and Japan. We are also commencing the global promotional campaign soon," Dissanayake said.

SLTB officials also pointed out that as the Syrian civil war is coming to an end, Ceylon Tea could partly compensate Iran and Turkish markets with Syria.

SLTB officials also expressed confident that Sri Lanka would be able to surpass the last year's export income of US $1.5 billion.

Meanwhile, Dissanayake yesterday formerly announced that the SLTB would sponsor Sri Lanka's national netball team at World Netball Championship 2019 which would be held in Liverpool, UK.

As the main sponsor, SLTB has allocated an amount of US $30,000 for the national team from the tea promotional fund. (NF)