---
Nations Trust Bank PLC (NTB) reported a marked increase in profits in 2017 as the bank grew its loan book while preserving its margins despite some increase in specific provisions.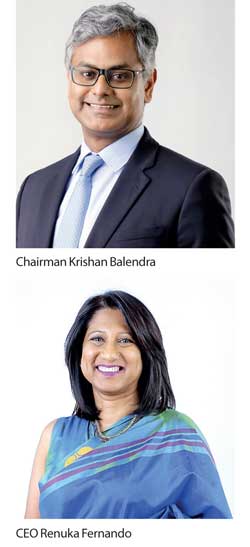 The NTB group reported earnings of Rs.3.94 a share on total earnings of Rs.931.2 million for the October-December quarter (4Q17), an increase of 12.0 percent from an year earlier, the interim accounts released to the Colombo bourse revealed.

The NTB group comprises of three subsidiaries— Waldock Mackenzie Limited, Allied Properties Limited and Nations Insurance Brokers Limited.

NTB on a standalone basis reported Rs.1.54 billion in earnings or Rs.6.51 a share for the same period, recording an increase of 101 percent from a year earlier.

The NTB share ended unchanged at Rs.79 at yesterday's market close.

Meanwhile, for the year ended December 31, 2017, the banking group reported earnings of Rs.14.25 a share or Rs.3.37 billion, an increase of 18 percent over the previous year.

The bank on a standalone basis reported total earnings of Rs.4.3 billion, a 58 percent year-on-year (YoY) increase.

The performance was largely due to the strong growth in new loans.

The bank gave Rs.38.1 billion in new loans and receivables, which translated into a robust 26 percent growth.

The bank ended the year with a total loan book of Rs.187 billion while the assets of the bank grew by 27 percent to Rs.267.9 billion by the year end.

Meanwhile, NTB's deposits grew by Rs.42.7 billion or 28.2 percent to Rs.194 billion.

Despite increase in high cost deposits in the portfolio, the bank managed to maintain its net interest margin at 5.0 percent against 4.90 percent a year earlier.

The net interest income for the quarter rose by 39 percent YoY to Rs.3.6 billion.

Meanwhile, the provisions made against the possible bad loans on account of individual customers was Rs.148.7 million for the quarter, against a provision reversal of Rs.79.7 million a year earlier.
For the full year, such provisions stood at Rs.354.3 million.

The bank attributed such high provisions to "weather-related weakening of the country's agriculture sector", which "had trickle down effects on several industry sectors".

By December 31, 2017, John Keells Group held a 29.9 percent stake while the HWIC Asia Fund and Central Finance Company PLC held 15.0 percent and 9.98 percent stakes, respectively.

Janashakthi General Insurance Limited also held a 8.06 percent stake being the fifth largest shareholder at NTB.