---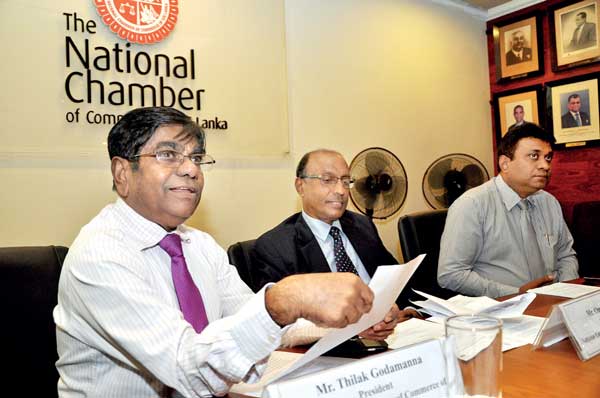 From left: National Chamber of Commerce National President Thilak Godamanna, Enterprise Development Authority Chairman Omar Kamil and National Chamber of Commerce Senior Deputy President Sujeewa Samaraweera
Pic by Nisal Baduge
By Supun Dias
The National Chamber of Commerce of Sri Lanka (NCCSL) in partnership with the National Enterprise Development Authority (NEDA) has organised Entrepreneur Awards 2016 – Western Province for the first time in order to recognize and give a special focus towards the development of small and medium enterprises (SMEs).

NEDA Chairman Omar Kamil said that the NEDA has started a programme of identify youths around the country who have brilliant business plans and then to grant them financial support to carry it forward.

"In countries such as Japan, the contribution of SMEs to the national economy is around 80 percent. That is what we also want to target and achieve. The NEDA assists the development of Sri Lankan economy by encouraging, promoting and facilitating SMEs and formulating policies, plans and promotional incentives in promoting trade and development in industry and agriculture," he noted. "To give one million jobs, which is the vision of the government, it is the private sector that has to provide the majority. But the government has identified the need to uplift and encourage SMEs and youth entrepreneurship," said NCCSL Senior Deputy President Sujeewa Samaraweera.

The NCCSL joined hands with the NEDA to conduct this awards competition to recognize, reward and motivate Sri Lankan SMEs to reach the pinnacle of achievement whilst contributing towards the national economy. As a start, the two stakeholders have decided to promote this endeavour in the Western Province itself, which is considered the backbone of the Sri Lankan economy.
The awards ceremony will see the recognition of 19 winners under Enterprise Excellence Awards, Best Enterprises Award and Special Awards in the category of Industry/Manufacturing, Agriculture, Livestock, Fisheries, Tourism, Hospitality and Services Sector. It will be held on November 9. Applications are now issued by the National Chamber of Commerce.