---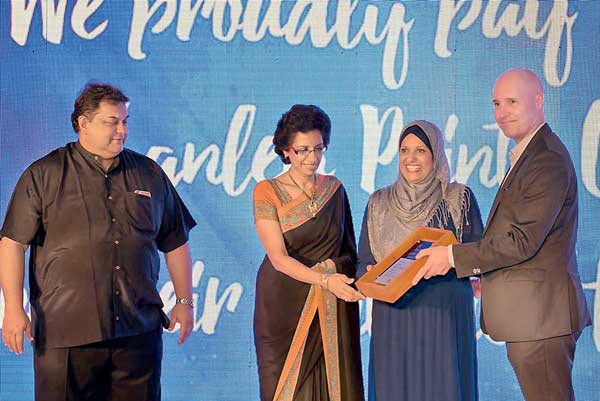 Gerald De Saram, Managing Director of AkzoNobel Paints Lanka, Marina Fazeel and Nazly Zuhyle, Co-owners of Lanley Paint Centre, and Jeremy Rowe, Managing Director of AkzoNobel Decorative Paints for South East, South Asia and Middle East, at the felicitation dinner hosted by AkzoNobel.
Lanley Paint Centre celebrated a momentous milestone with its 50th anniversary this July. The business, which has stayed in the Latiff family for two generations, is aprimary agent for Dulux paints in Sri Lanka.

Encouraged by S.K. Wickremasinghe and Chris De Saram, Chairman and Managing Director of ICI (now AkzoNobel Paints Lanka), Lanley Paint Centrewas founded in 1966 by M.A. Latiff, in response to a dearth of showrooms in the market offering quality paints and premium serviceat a convenient location. Paints were only available in Slave Island and Pettah at the time. Lanley fast became the preferred store for Dulux paint whose tagline at the time fittingly was "Duco Dulux Pentalite-Masterpieces that none can match."

With Latiff's passing, his daughters Nazly Zuhyle and Marina Fazeel took over the Lanley business and in 2000 they re-constructed the shopto a vision their father had sketched. Today, the Lanley building stands tall on Galle Road-it is the only Lanley outlet in Sri Lanka, and the preferred choice of architects, designers and homeowners.

Nazly and Marina, carrying forward their father's legacy, related how keeping the business strong and relevant has been a challenge that they relish: "Our father had a very clear vision for Lanley Paint Centre," said Nazly. "We have tried to do justice to that every step of the way, from building a state of the art showroom to hiring the best colour experts."

Marina added that the market has become much more sophisticated, with Lanley stepping up its repertoire in order to match this. "Customers who walk into the store have done their homework and they want on-trend colour palettes for their homes. Technologies such as the Dulux Visualizer Mobile app, alongside very versatile products such as the Ambiance range, Light & Space and Easy Care from Dulux have kept us at the top of the game."
When Dulux pioneered the concept of providing customised colour to consumers in Sri Lanka, the first Dulux Master Palette tinting system machine was located at Lanley Paint Centre.

AkzoNobel Paints considers Lanley an integral part of its operation in Sri Lanka; a full range of Dulux products including the latest additions to its range may be found at the Lanley showrooms. Lanley has currently focussed its range of products on decorative paints, and its staff is fully trained with an expert eye for colour and texture. Many have been with the business for decades-Lanley's Colour Mixer has been mixing and matching exclusive paints for 34 years, while two others have been based with Lanley for over 20 years.

Customers stepping into the Lanley showroom have a range of in-house services at their fingertips. From advice about colour, the best palettes to suit lighting and space, and personal recommendations from top management, to expert mixing to create unique shades, the Lanley portfolio can match any requirement they may have.

It is this expertise and decades ofan almost familial interconnection that makes Lanley an extension of AkzoNobel, says AkzoNobel Paints Managing Director Gerald de Saram. "For 50 years the Lanley name has been synonymous with Dulux in Sri Lanka. Their expert staff understands colour and complements our business perfectly, and our customers also prefer buying their trusted Dulux colours from Lanley because of this. We wish them all the best on this anniversary, and look forward to many more years of partnership."

Jeremy Rowe, Managing Director of AkzoNobel Decorative Paints for South East, South Asia and Middle East tapped into the heart of what makes the collaboration work so well during his visit to the Lanley Paints showroom."Our partners play a significant role in determining how a customer or homeowner will experience our brand. We provide a great product and brand, and partners like Lanley provide an essential service element that our customers need. The expertise Lanley offers ensures a loyal customer base who don't even think of going anywhere else when it comes to repainting their homes."