---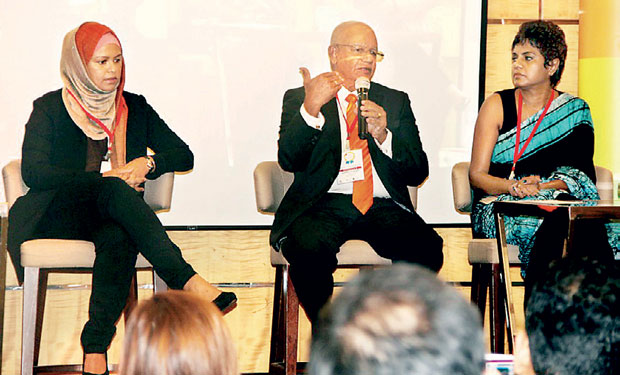 Kelani Cables PLC Director/CEO Mahinda Saranapala (centre) speaking at the panel discussion on 'What Great Employer Brands Really Do' in the presence of Hong Leong Islamic Bank Berhad Strategic Marketing, Branding, Comm and CSR Head Sairana Binti Mohd Saad (left) and Lanka Market Research Bureau (Pvt.) Ltd Chief Executive Himalee Madurasinghe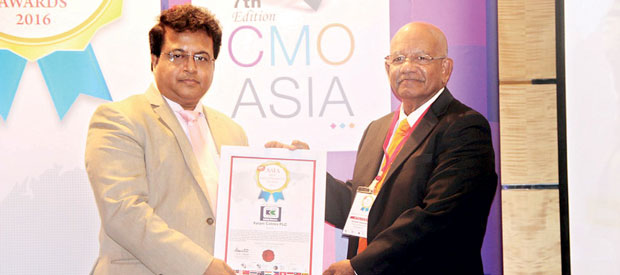 Kelani Cables PLC, Sri Lanka's number one brand in secure electrical and communication cables, won the Asia's Best Employer Brand award for the second consecutive year.
The seventh edition of Asia's Best Employer Brand Award 2016 was held at Pan Pacific Hotel in Singapore recently.
The annual award ceremony is hosted by Employer Brands Institute and World HRD Congress with CHRD Asia as a strategic partner. Asia's Best Employer Brand award is endorsed by the Asian Federation of Business. This award is considered the most recognized one amongst all awards conferred to organisations contributing towards strengthening Asia's economy.
An internationally recognized panel of judges constitute of professionals from different parts in Asia scrutinize applicants with strict discipline to select a winner each year.
The eligibility criteria for the award are twofold. Either an Asian company can apply for the award individually or an independent panel of judges can evaluate a particular company's credentials to grant the award.
Similar to the previous year, Kelani Cables was selected as the winner for the 2016 award on a recommendation made by the independent panel of judges. They have carried out an unbiased research on Kelani Cables PLC to select it as the winner for 2016.
The purviews within which a winner is selected are; a company's culture encouraging innovation, its belief in consistent improvement in HR policy maintaining organisational health and values, being a social employer and a company's ability to develop future leaders. Research for the award is based on primary data on respective companies.
Kelani Cables PLC Director/CEO Mahinda Saranapala received Asia's Best Employer Brand Award 2016 amidst a gathering of over 300 most senior personnel from over 150 Asian companies. Kelani Cables PLC HR Manager Gihan Vidanagama too participated in the event.
Saranapala was privileged to talk at the panel discussion on the topic 'What Great Employer Brands Really Do'. He delivered an insightful and a brief speech on the theme '484 employees, 484 hearts and one Beat', which mainly focused on the HR theme of the company.
Saranapala said the award has endorsed the best HR policy practices maintained by his company. "Kelani Cables PLC is the first and foremost company in Sri Lanka that had the privilege of winning this prestigious award for two consecutive years. This recognition constitutes to our HR policy and code of conduct. We continue to be the number one brand in secure electrical and communication cables in Sri Lanka. Asia's Best Employer Brand Award 2016 adds immense credibility to our products as well as our HR policy. This sheds light on the determination of our employees to offer superior products to our customers."
He added, "Kelani Cables PLC also received recognition this year at the National HR Excellence Awards ceremony held in Sri Lanka. This signifies the fact our company has created the best environment for people to work."
Kelani Cables PLC is a one hundred percent Sri Lankan company serving the nation for 47 years manufacturing electrical and communication cables. The company achieved 'Super Brands' status in the electrical and telecommunication sector in 2008 for professional supremacy it demonstrated in the electrical and communication cables sphere.